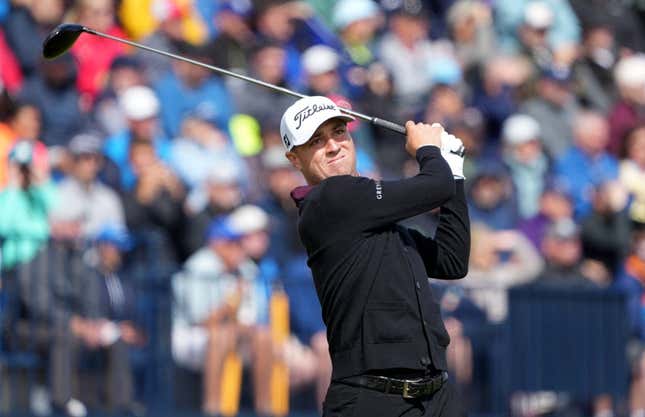 Justin Thomas admitted he's concerned about making the United States Ryder Cup team after failing to make the cut at The 151st Open Championship.
Is Texas or Florida State a bigger national title contender? | Agree to Disagree
Thomas did rebound from an opening-round 82 to card an even-par 71 on Friday. However, that still left him well off the cut line at Royal Liverpool.
It is the fourth time in his past six starts that Thomas has failed to make the weekend. He has plummeted to 20th in the Official World Golf Rankings, and figures to drop even further come Monday.
There are two more even problematic issues for Thomas.
He entered The Open ranked 75th in the FedEx Cup standings. Only the top 70 after the Wyndham Championship in two weeks will qualify for the first leg of the playoffs. Thomas has finished in the top 10 in the FedEx Cup each of the past six years.
He has also played in of the past two Ryder Cups, posting a combined 6-2-1 record for the United States. However, Thomas' poor form in 2023 has him 13th in the U.S. standings -- and that's before the results of The Open are factored in come Sunday.
"Obviously," Thomas said on Friday when asked if he's concerned about making captain Zach Johnson's team. "I want to make the Ryder Cup more than anything. I'm probably honestly trying too hard to do it. It reminds me a lot of my first or second year on tour.
"I tried so hard to make that team for the first time. I'm in a very similar position. I've been trying to make it easy on Zach and get in the top six, but I seem to not want to do that with my golf."
Thomas will leave Hoylake and head to Minnesota for next week's 3M Open. He added the event in an effort to improve both his FedEx Playoff and Ryder Cup positions. Then again, he also added the Rocket Mortgage Classic to his schedule earlier this month, only to miss the cut against a modest field.
The 3M Open will be followed by the final regular-season event at the Wyndham.
"Everybody has their waves, their kind of momentum and rides and rock bottoms, whatever you want to call it," he said. "I just keep telling myself, 'This is it, I'm coming out of it,' and I unfortunately have surprised myself a couple times with some bad rounds.
"It doesn't mean a day's good play like today doesn't get a spark going. I don't know. All I can do is try to be in the frame of mind for it, too."
Thomas sits well outside of the six automatic spots for Johnson's 12-man team, meaning he will likely need to be a captain's pick to play in Rome in September. What does he need to do to convince Johnson that he's worthy of a spot?
"It's not like I'm going to write him a love letter or anything," Thomas said. "I would like to think that my record is my best argument. I love the team events. I thrive in them. I just enjoy it. Playing with a partner could kind of ease me a little bit, relax me.
"I don't want to put him in this position. I hate even having to hope for a pick. This is the first time since I first qualified that I've had to rely on a captain's pick, and it's not fun, especially when you're trending the wrong way when other people are trending toward it.
"I'm just hoping that I can finish this year out strong and my record speaks for itself."
In addition to his strong Ryder Cup record, Thomas is 10-3-2 in three Presidents Cup appearances. It's a record that his good friend Johnson is well aware of.
"Well, as a friend and roommate, I'm concerned just because he's my buddy and I know what he's capable of and that sort of thing," Johnson said when asked about Thomas on Friday.
"Obviously he's a stalwart in (the Ryder Cup), right? Those kind of moments like that, he's one of the best there is.
"Bottom line is this game is really hard. There's going to be peaks. There's going to be some valleys. Let's hope whatever sort of non-peak he's in, it's short.
"I might be slightly concerned, like I said, as a friend, but I'm not worried about him because I know what he does and I know what he's capable of."
--Field Level Media