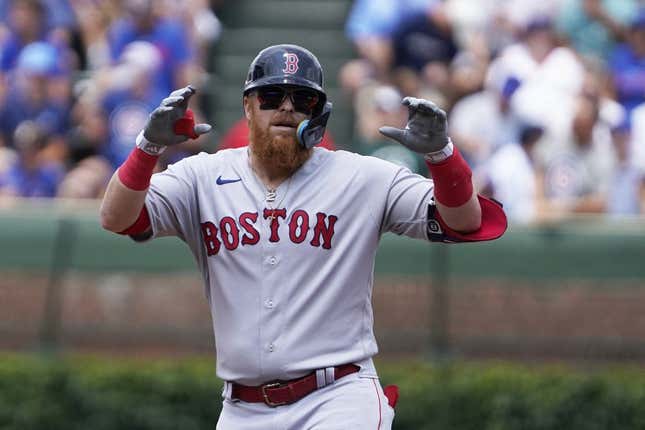 The visiting Boston Red Sox hope to have Rafael Devers back in the lineup when they go for a second straight win over the reeling Oakland Athletics on Tuesday night
How running an NFL team is like running a restaurant | Chef Emeril Lagasse
With Devers being held out as a precaution due to a tight right calf, veteran Justin Turner slid over to third base and contributed a double, a run and two RBIs to a 7-0 triumph over the A's in Monday's series opener.
The double advanced Turner's hitting streak to 13 games, during which he's gone 20-for-49 (.408), raising his average from .271 to .290 in the process.
Should Devers return to action on Tuesday, Turner could move to second base -- or first base or maybe even DH. The amazing part about his 13-game streak is that it's come even as he has been shuffled among four different positions.
It also came immediately following a 4-for-28 (.143) stretch that saw his average drop 13 points.
When asked Monday to pinpoint what he's done differently of late, Turner admitted: Nothing.
"There's obviously a lot of variables and a lot of aspects to hitting," he said. "Nowadays, with so many hitting coaches and swing coaches and swing gadgets, everyone's so fast to overhaul or change things or use these gadgets because they think their swing isn't working. The reality is: Your swing is fine but your timing is not.
"That is probably kind of a big issue in the game right now, (players) creating dependency on outside hitting people and all these drills and gimmicks to trick you into thinking you need all this stuff to be successful."
Turner was among eight Red Sox starters who had hits in the Monday win, Boston's 11th victory in the past 13 games. At a position to be determined, he will take his cracks in the rematch against A's right-hander Luis Medina (2-7, 6.34 ERA)
The 24-year-old rookie got a no-decision in Oakland's 7-3 loss at Boston on July 7, allowing four runs in six innings while striking out a season-best nine. It was his first appearance against the Red Sox
Medina won his previous start at home against the Chicago White Sox, a 7-4 victory in which he went five innings, allowing just one run.
The Red Sox used an opener approach in the Monday win, and it worked spectacularly. Three pitchers combined on a one-hitter in which the A's got just five baserunners (a single, three walks and a hit batter) while striking out a total of 18 times
Afterward, rather than blame fatigue following a hard-fought, three-game sweep at the hands of the Minnesota Twins that ended Sunday, A's manager Mark Kotsay chose to praise Nick Pivetta, the second of Boston's three pitchers on Monday. Pivetta pitched no-hit six innings and struck out 13.
"You run into a buzzsaw sometimes. This seemed to be one of those nights," said Kotsay, whose team has lost eight in a row. "You just got to tip your cap sometimes."
The Red Sox are expected to use a similar tactic on Tuesday, with left-hander Chris Murphy (0-0, 2.16 ERA) serving either as the opener or the bulk-innings reliever
The 25-year-old California native worked the second through fourth innings in a July 9 home win over the A's -- the first time he'd ever faced them -- allowing one run on two hits.
--Field Level Media