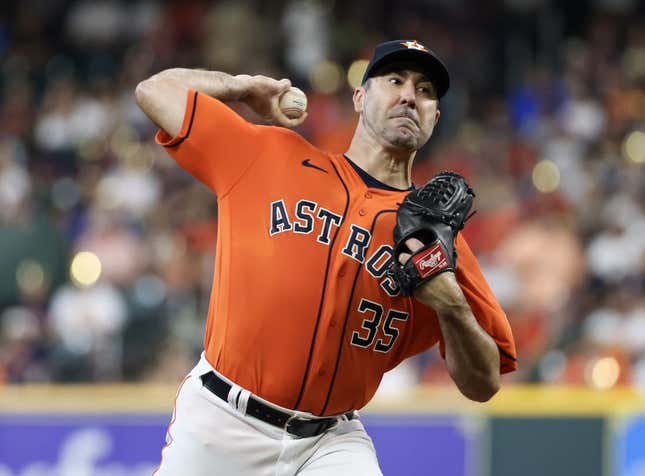 On the heels of being swept by a division foe playing with abundant confidence, the Houston Astros were in sore need of something that would shift the momentum back in their favor.
How running an NFL team is like running a restaurant | Chef Emeril Lagasse
Before they came to bat for the first time against the visiting Boston Red Sox on Monday, the Astros faced a 3-0 deficit courtesy of a three-run home run from Adam Duvall.
What followed with a determined climb that resulted in a 9-4 Houston victory. The Astros and Red Sox will play the second game of a four-game series on Tuesday.
Houston scored one run in the bottom of the first and added three-run frames in the second and fourth.
Entering Tuesday, the Astros are 1 1/2 games behind the Texas Rangers in the American League West, and Houston holds the second of three AL wild-card spots. Boston sits four games back of the Seattle Mariners in the race for the final AL wild-card position.
After the Mariners had their way with the Astros over the weekend during a three-game sweep, Houston recovered from Boston's early haymaker on Monday.
"You have no choice," Astros manager Dusty Baker said of forging the comeback. "You've got to fight yourself and the feelings of, 'Here we go again.' (The Mariners) got the two-out hits all weekend, and (the Red Sox) got that two-out home run. Like, man, why is it always two outs?"
Justin Verlander (8-6, 3.36 ERA) has the starting assignment for the Astros on Tuesday, his fourth start since rejoining Houston at the trade deadline.
The 40-year-old right-hander labored in his most recent start, against the host Miami Marlins on Wednesday, allowing five runs (four earned) on nine hits and two walks with two strikeouts over five innings. However, he was the beneficiary of ample run support in a 12-5 win. Verlander is 2-1 with a 4.50 ERA since returning to the Astros.
Verlander owns a 5-6 record and a 2.87 ERA over 19 career regular-season starts against the Red Sox. His most recent appearance against Boston came on May 26, 2019, when he allowed three runs (two earned) on five hits with six strikeouts and no walks over seven innings in a 4-1 home loss for the Astros.
Right-hander Tanner Houck (3-6, 5.05 ERA) is scheduled to start for the Red Sox on Tuesday following his activation from the injured list. Houck has been out for two months following a facial fracture sustained June 16 against the New York Yankees when he was hit by a line drive below the right eye.
Before landing on the injured list, Houck was mired in a nine-start winless streak during which he was 0-6 with a 5.40 ERA. He opened the season 3-0 with a 4.29 ERA over his first four starts.
"It's good to be back," Houck said. "Long road, but I know things could have been much worse so excited to get back out there (on Tuesday).
"Missing any sort of time, you've got to go through the process of building the arm back up. You can't just jump in headfirst and go 80 pitches Day 1. But that's why we've got a great medical staff here. They've been great the entire way through."
Houck has not recorded a decision in two career appearances against the Astros. He earned the save in both relief outings against Houston in 2022, posting one strikeout in a total of 2 2/3 scoreless innings.
—Field Level Media