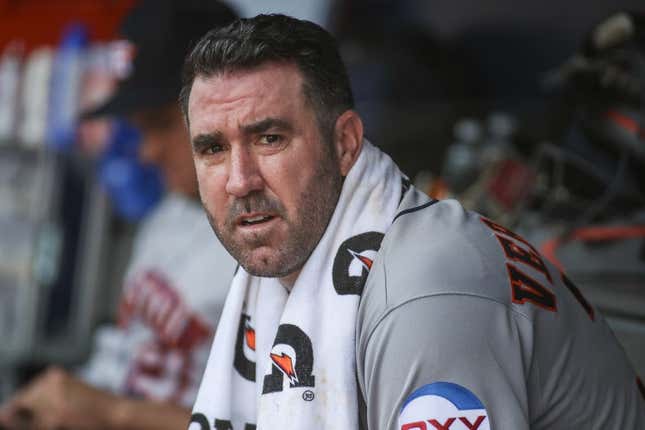 Houston Astros rookie right-hander Hunter Brown, in pursuit of a fourth consecutive quality start on Thursday, came undone in the seventh inning against the Baltimore Orioles and experienced a learning moment
How running an NFL team is like running a restaurant | Chef Emeril Lagasse
Brown completed six innings with 89 pitches and three runs given up but surrendered three successive hits to open the seventh, including a two-run home run to Ryan Mountcastle that proved decisive in a 5-4 loss that prevented the Astros from sweeping the three-game series
Now, Houston moves on Friday night to the opener of a three-game weekend home series against the Los Angeles Angels
Brown, 2-0 with a 3.00 ERA over his previous three starts, labored a bit in the sixth inning but returned for the seventh, even though he last recorded more than 18 outs on June 13 against the Washington Nationals. The Orioles scored two quick runs on a double and the homer to extend their lead to 5-2
"Those add-on runs hurt because Hunter threw the ball well," Astros manager Dusty Baker said. "He threw the ball great, and then he got beat late with his breaking ball. Other than that he threw the ball great
"You can't go to the bullpen all the time after the sixth, especially if their pitch count is relatively low and they're still throwing good. You've got to learn. We asked him (if he was fatigued), and he said he felt great and he looked great. It's still in the learning period. We thought he had enough (to work another inning).
The Astros completed their seven-game trip at 4-3 but fell 2 1/2 games behind the idle Texas Rangers in the American League West
Veteran right-hander Justin Verlander (6-6, 3.11 ERA) will make his first home start with the Astros on Friday since being reacquired by Houston at the trade deadline. He allowed two runs on seven hits and two walks with four strikeouts over seven innings in a 3-1 loss to the New York Yankees on Saturday in his first start with the Astros since Game 5 of the 2022 World Series
Verlander is 15-11 with a 3.20 ERA over 30 career starts against the Angels. He faced them once last season and allowed one run on three hits and three walks with seven strikeouts over five innings in a 2-0 loss on April 9, 2022
Left-hander Reid Detmers (2-8, 4.78) has the starting assignment for the Angels on Friday. He did not factor into the decision against the Seattle Mariners last Friday after allowing seven runs on nine hits and two walks with four strikeouts over four innings. Detmers had a five-start stretch from June 8-July 2 where he went 2-0 with a 1.42 ERA
Detmers is 1-2 with a 4.88 ERA over six career starts against the Astros. In two starts against them this season, he is 0-1 with a 6.55 ERA, including allowing four runs on five hits and three walks with six strikeouts over six innings in the Angels' 13-12 home victory on July 15
The Angels are coming off a 4-1 victory over the San Francisco Giants on Wednesday in the rubber match of that three-game series. It marked a second straight win for the Angels following a seven-game skid. Shohei Ohtani threw six innings and gave up one unearned run to improve to 10-5 for the season
"Getting these two wins to win the series is huge, especially going into an off day and a road trip," Ohtani said through an interpreter. "Just try to keep the momentum going.
--Field Level Medi