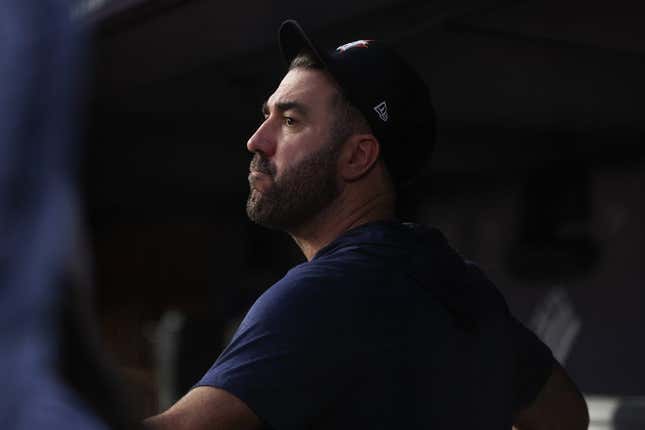 A week ago, Justin Verlander was preparing for his first attempt at earning his 250th career win while still a member of the underachieving New York Mets
Is Texas or Florida State a bigger national title contender? | Agree to Disagree
Now he is back with the Houston Astros and will start his second stint with the defending World Series champions on Saturday afternoon when he faces the host New York Yankees
The Astros are 13-7 since the All-Star break, and they evened the four-game series with a 7-3 victory on Friday. Yainer Diaz hit a three-run homer in the first inning, and Yordan Alvarez hit a solo shot in the fifth. Kyle Tucker added a two-run double in the sixth, giving him eight RBIs over his past six games
Verlander posted a 6-5 record and a 3.16 ERA for the Mets in the first year of a two-year, $86.7 million contract he signed in December after helping the Astros capture their second World Series title in team history. He joined a team that was coming off a 101-win season and was considered among the majors' preseason favorites
Instead, the Mets fell under .500 for good on June 6, and by last week, they began shifting their priorities by trading several veterans. Verlander's last start for New York came on Sunday against the Washington Nationals, when he pitched 5 1/3 innings of one-run ball for his 250th career win -- after the Mets traded David Robertson to the Miami Marlins and Max Scherzer to the Texas Rangers for prospects
Verlander flew with the Mets to Kansas City, and by Tuesday, he agreed to waive his no-trade clause wound up getting dealt to Houston for the second time. The first time was in 2017, when he was acquired from the Detroit Tigers. He went 61-19 with a 2.26 ERA for the Astros in 102 regular-season starts and posted nine postseason wins, including three over the Yankees
"It's exciting seeing all the guys again," Verlander said during a lengthy press conference on Thursday. "It feels a little weird because it hasn't been that long, so it feels like you don't miss a beat and you're right back in the locker room. But on the other hand, there's this whole segment that happened. So here I am, still staying in my apartment in New York
"It's a really odd feeling. Hard to explain.
Verlander is 10-7 with a 3.24 ERA in 25 regular-season starts against the Yankees. He last faced them on July 25 in New York, when he pitched six shutout innings in a 9-3 win to improve to 5-0 with a 1.69 ERA in his past eight regular-season starts against the Yankees
New York will face Verlander after resting Aaron Judge for the second time since he returned from a toe injury last week. Jake Bauers, Isiah Kiner-Falefa and Giancarlo Stanton homered on Friday, but Judge struck out as a pinch hitter, the Yankees went 0-for-7 with runners in scoring position and were unable to register a third consecutive win
Verlander will be opposed by left-hander Nestor Cortes (5-2, 5.16 ERA), who is returning from a left rotator cuff strain for his first start since allowing two runs in five innings on May 30 in Seattle
Cortes initially hoped to miss just a few starts but wound up being transferred to the 60-day injured list. He allowed one run in 6 1/3 innings over two rehab starts for Double-A Somerset
"I've been on the shelf too long," Cortes said on Wednesday. "I want to come back and obviously show who I am and be back to the same form I was. So excited for this weekend.
Cortes is 1-1 with an 8.04 ERA in six regular-season appearances (three starts) against Houston. He also faced them in Game 4 of last year's American League Championship Series but exited after two-plus innings with a groin injury
--Field Level Medi