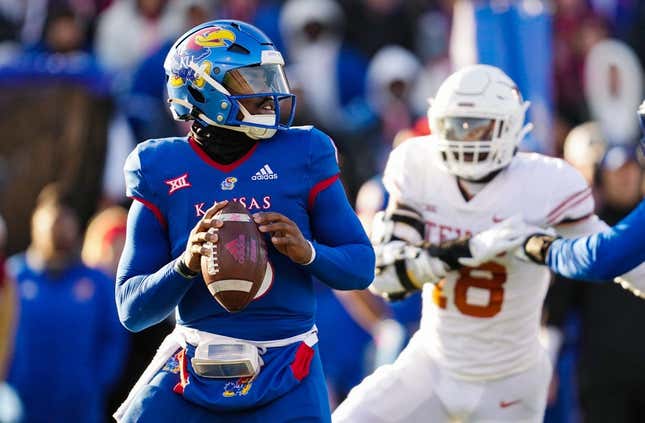 It's been well over a decade since there was this much anticipation for Kansas football heading into a season.
How running an NFL team is like running a restaurant | Chef Emeril Lagasse
The Jayhawks will host the Missouri State Bears on Friday night, looking to build on last season's 6-6 regular season. Coach Lance Leipold's team is getting noticed in ways not seen in Lawrence since the late 2000s.
Kansas' last winning season was in 2008 when it went 8-5. That's also the last season it finished anywhere in the conference standings other than last or next to last (and the last time it won more than two games in the Big 12) before going 3-6 last season, good for seventh place in the 10-team league.
With four new schools entering Big 12 play this season, Kansas is expected to be somewhere in the middle of the pack. The Jayhawks were picked ninth in the 14-team league, but within shouting range of Oklahoma State and UCF, which were seventh and eighth, respectively. They are ahead of Iowa State and West Virginia, two carry-overs, as well as newcomers BYU, Houston and Cincinnati.
"Last year was an exciting year for us to take a big step forward as a program," Leipold said at Big 12 Media Days in July. "We're excited to take another step this year."
The Jayhawks will be relying on quarterback Jalon Daniels, the Big 12 preseason Offensive Player of the Year.
"He's making all the throws, (being) everything we need him to be," Leipold said. "I think one thing we forget about Jalon, with everything he brings to our program, is that he's an academic all-American. What we put on his plate ... I think he does an outstanding job."
The Bears are coming off a 5-6 season in which they won three of their last four games, snapping a five-game losing streak in the process. MSU first-year coach Ryan Beard returns 11 starters, 38 lettermen and 62 total squad members from last season.
"The one thing I like about this group is they truly love football," Beard said. "There are a bunch of position battles going on. I think we're going to continue to get better every single day."
—Field Level Media