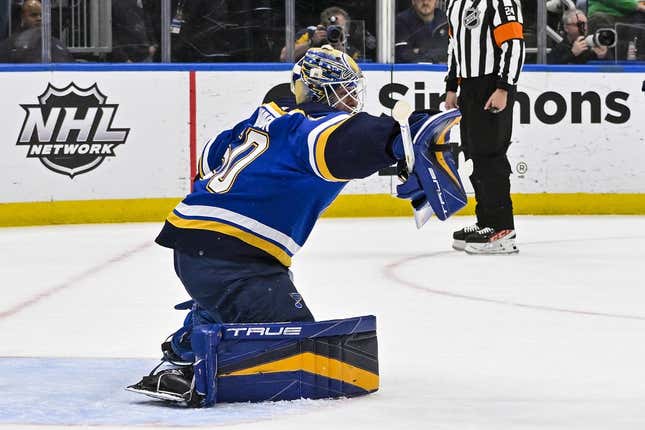 Kasperi Kapanen scored the decisive goal 1:16 into overtime as the St. Louis Blues edges the visiting New York Rangers 3-2 on Thursday
Air Jordans are more American than McDonald's French fries | Deon Cole's Ultimate Sports Fantasy
Alexey Toropchenko and Tyler Pitlick also scored for the Blues (37-35-7, 81 points). Jordan Binnington made 21 saves
In his first game back in St. Louis to face his former team, Vladimir Tarasenko scored and had an assist for the Rangers (46-22-11, 103 points)
Vincent Trocheck also scored for New York and Jaroslav Halak made 19 saves.
The Blues outshot the Rangers 8-6 in the scoreless first period. St. Louis had the only power play in the first 20 minutes and had the better scoring chances
The Blues' Brandon Saad broke in down the middle for a point-blank shot that Halak stopped. Toropchenko snapped a dangerous shot from the slot and Logan Brown had a rebound opportunity with 9.2 seconds in the first period
The teams picked up the offensive pace in the second period and exchanged scoring chances.
Finally, the Blues broke through to take a 1-0 lead 8 minutes into the second period. Toropchenko stole the puck from Rangers winger Artemi Panarin in the Blues' zone, then raced up the left wing to beat Halak to his glove side
Rangers winger Kaapo Kakko nearly slipped a shot through Binnington from the right circle later in the period, and Nathan Walker tested Halak with a high shot from atop the left circle
Tarasenko tied the game 1-1 with a power-play goal 1:55 into the third period. Mika Zibanejad fired a cross-crease pass that caromed out Tarasenko stepping in from the right circle.
Pitlick put the Blues up 2-1 with 9:47 to play by banging in the rebound of his point-blank shot
But Trocheck scored a power-play goal from the slot to tie the game with 2:03 left to force overtime.
--Field Level Media