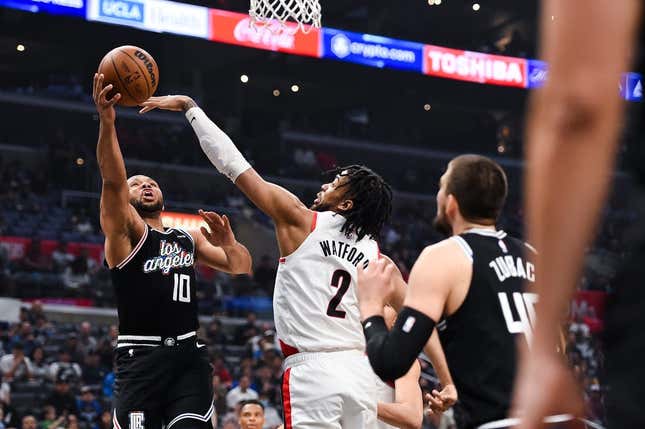 Kawhi Leonard collected 27 points, eight rebounds and four assists to help the Los Angeles Clippers rally in the second half and post a 136-125 win at home on Saturday over the Portland Trail Blazers
Russell Westbrook added 20 points, six rebounds and six assists for the Clippers (43-38), who moved into fifth place in the Western Conference despite holding the same record as the Golden State Warriors (43-38)
Los Angeles surrendered 70 first-half points to a makeshift lineup for Portland, which starting a young group in the continued absences of Damian Lillard and Anfernee Simons.
Kevin Knox led the Trail Blazers (33-48) with game-high totals in points (30) and rebounds (11). Shaedon Sharpe scored 26 points and Trendon Watford added 24 for Portland
The trio of Knox, Sharpe and Watford shot a red-hot 19-of-27 from the floor combined in the first half as the Blazers built an advantage of as many as 10 points.
Portland had no answer coming out of intermission as Los Angeles ratcheted up the intensity, however. The Clippers erupted with a 16-2 run to start the third quarter en route to outscoring the Blazers 45-26 for the period
Leonard hit a pair of 3-pointers in the pivotal third quarter, part of his 4-of-8 shooting for the period.
The Los Angeles advantage grew to as many as 19 points in the fourth quarter.
Norman Powell scored 23 points and Mason Plumlee added 11 off the bench, and Ivica Zubac recorded a double-double of 14 points and a team-high 10 rebounds. Nicolas Batum scored all nine of his points on 3-of-5 shooting from 3-point range.
Shaquille Harrison collected 13 points and 10 assists for Portland. Thirty-two of the Blazers' 47 makes on 89 field-goal attempts were assisted.
--Field Level Media