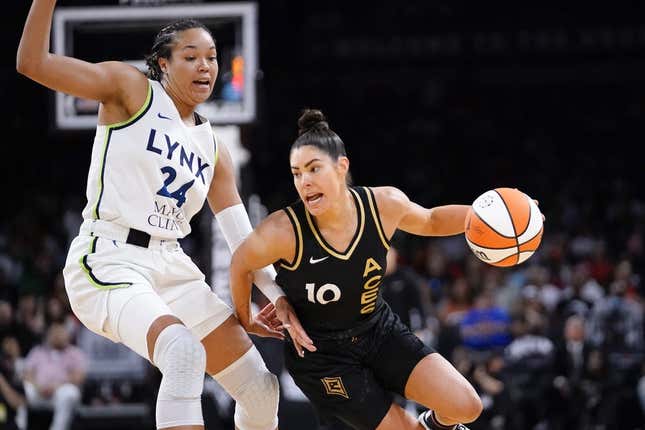 Kelsey Plum scored a career-high 40 points against the Minnesota Lynx on July 9
The Las Vegas All-Star guard will attempt to post another high-scoring effort when the Aces return to Minneapolis to face the Lynx on Saturday afternoon
How running an NFL team is like running a restaurant | Chef Emeril Lagasse
Plum was 14-of-18 shooting, including 6-of-9 from 3-point range, while helping Las Vegas roll to a 113-89 victory in the Twin Cities. That point total represents a season high for the Aces, who are 3-0 against Minnesota with an average winning margin of 25.3 points
First-place Las Vegas (20-2) beat the host Seattle Storm 79-63 on Thursday night to tie the 1998 Houston Comets and 2016 Los Angeles Sparks for the best 22-game starts in WNBA history. The Comets won their 23rd game while the Sparks lost.
Plum had 20 points and six assists against the Storm but was miffed that she never went to the foul line. She was highly vocal at times during the contest.
"I didn't shoot any free throws," Plum told reporters afterward. "I live in the paint. It's really hard. So I think if anything, I was just yelling obscenities. But I was just frustrated, that's all."
A'ja Wilson (23 points, 15 rebounds, three blocked shots) and Jackie Young (22 points, eight rebounds) also had productive games against Seattle. Wilson raised her career blocks total to 302.
Meanwhile, Minnesota (10-12) ended a three-game losing streak by recording a 73-70 home win over the Sparks on Thursday night.
The Lynx faced a late seven-point deficit before scoring 12 straight points to overtake Los Angeles
Minnesota All-Star Napheesa Collier scored eight of her 22 points during the late dash.
"That's what the greatest players do," Minnesota rookie Dorka Juhasz said afterward. "Whenever the team needs them, they show up, and Phee's definitely that person for us. ... She's been playing like an MVP."
Juhasz, a second-round draft pick, contributed a career-best 16 points and grabbed 10 rebounds. Another rookie, No. 2 overall pick Diamond Miller, had 13 points and a career-best nine assists to go with seven rebounds.
The Lynx got Aerial Powers (sprained ankle) back on Thursday but announced earlier that day that fellow guard Rachel Banham is sidelined with a fractured right thumb. Banham was hurt against the Aces and actually played 27 minutes three days later against the Dallas Wings
Las Vegas will be without two-time WNBA MVP Candace Parker (ankle) for the fifth straight game.
--Field Level Media