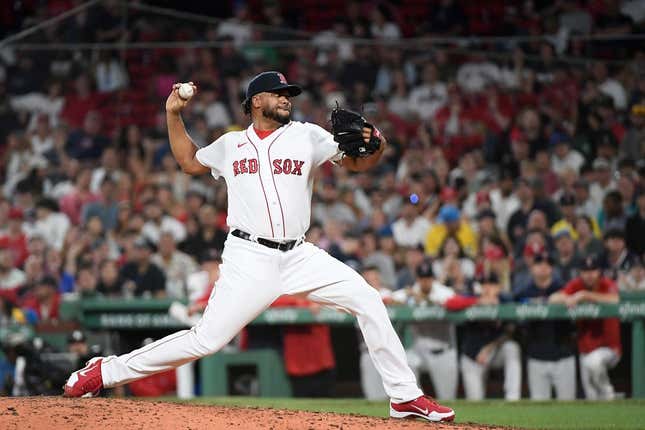 Kenley Jansen will be looking to regain his early-season form when the Boston Red Sox begin a three-game series against the visiting Seattle Mariners on Monday night
'Soccer fandom is full of gatekeepers' says Ted Lasso actor Brendan Hunt
Jansen, who is in his first season as Boston's closer, recorded the 400th save of his major league career on Wednesday, when Boston beat Atlanta 5-2. Things haven't gone smoothly for Jansen since then, however.
He blew back-to-back save opportunities in losses to St. Louis on Friday and Saturday. Jansen surrendered three runs in the ninth inning of each game, although only two were earned in Saturday's contest. The Red Sox entered the ninth of Saturday's game with a 3-1 lead, but three pitching violations in the inning helped St. Louis pull out a 4-3 victory
Two of the violations resulted in balls being called while Willson Contreras was at the plate and helped the Cardinals begin the frame with back-to-back walks.
Jansen wasn't slow in either situation. It was just the opposite. He started his pitching motion before Contreras had both feet in the batter's box.
MLB rules state that a batter must be alert and ready to hit in the box with at least eight seconds left on the pitch clock or he's charged with an automatic strike. If the pitcher throws the ball before there are eight seconds remaining on the pitch clock and the batter isn't ready to hit, it's an automatic ball.
"I kind of got confused a little bit because Contreras was looking at me," Jansen said following Saturday's game. "His hands were up and he was looking at me. But his (foot) was out. So I'm more focusing on seeing, 'Hey, he's looking at me. I'm gonna come home (with the pitch).'
"I mean, I've gotta pay attention that both feet are in the box. You see the bat up, you see the head looking at you. But then you've gotta pay attention to the feet -- if the (foot) is out of the box."
Jansen, 35, is one of seven pitchers with at least 400 saves, and is 22 away from tying Billy Wagner for sixth place. Jansen enters the Seattle series 1-2 with a 4.26 ERA and nine saves in 14 appearances this season. He has 17 strikeouts in 12 2/3 innings.
Seattle's George Kirby (4-2, 2.62 ERA) and Boston's Tanner Houck (3-2, 5.26), both right-handers, are Monday's probable starting pitchers.
Kirby is 0-1 with a 7.20 ERA in two career starts against the Red Sox, allowing 10 runs (eight earned) in 10 innings. He has also surrendered four home runs
Houck is 1-0 with a 2.61 ERA in four career appearances (one start) against Seattle. He has 16 strikeouts in 10 1/3 innings.
Seattle had won six consecutive road games until it dropped a 5-3 decision at Detroit on Sunday. Seattle relievers allowed two runs on three hits and walked four in 2 1/3 innings.
"Just an uncharacteristic outing of our bullpen," Seattle manager Scott Servais said. "Our bullpen has been awesome. All year long, they have been the anchor of our club, and they'll continue to be."
--Field Level Media