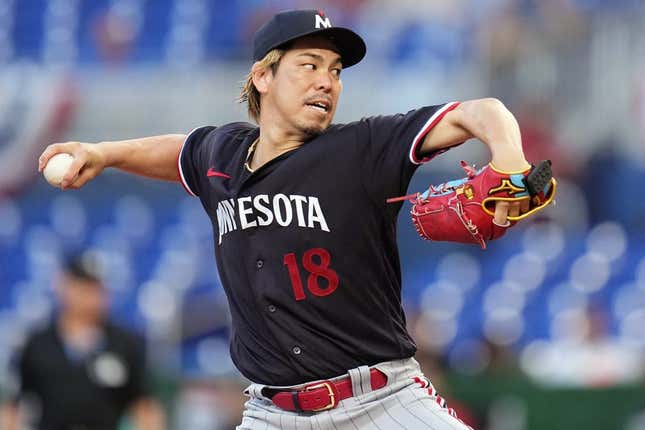 The Detroit Tigers turned their fortunes around in Minnesota last weekend. They can move closer to first place in the American League Central with another successful series against the Twins this weekend
How running an NFL team is like running a restaurant | Chef Emeril Lagasse
The teams will begin three-game series on Friday in Detroit.
The Tigers had lost 11 of their past 12 games before their visit to Minneapolis, where they took three of four. Detroit followed that up by winning two of three games against the last-place Kansas City Royals this week
The Tigers had an off day after defeating the Royals 9-4 on Wednesday afternoon. Zack Short and Eric Haase drove in three runs apiece after Detroit fell 1-0 the previous day
The Tigers aren't viewing this weekend's matchup as a make-or-break series
"We don't look at the standings," Short said. "It's early, and no matter who we're playing, we're trying to put our best swings and best pitches out there every day, and if it happens to be in the division, it means a little bit more."
Left-hander Joey Wentz, who will start for Detroit in the series opener, is coming off his best outing of the season despite taking a loss.
Wentz (1-7, 6.82 ERA) held the Twins to two runs on two hits and one walk in six innings in a 2-0 defeat on Saturday. He also recorded a career-best nine strikeouts, but he didn't get any run support
"I thought everything was pretty good," Wentz said. "I was able to make some big 3-2 pitches, able to throw some 3-2 changeups in the zone."
Wentz, who is 0-1 with a 1.23 ERA in three career starts against Minnesota, has a four-pitch arsenal and feels he needs to trust all of them.
"For me it's about committing to the pitch that's called and not babying it," he said. "Just commit to it and try to throw it hard. ... I feel good about where I am. I feel like I'm improving. I just have to keep building."
Kenta Maeda will come off the injured list and start for the Twins. Maeda (0-4, 9.00 ERA) hasn't appeared in a major league game since April 26, when he surrendered 10 runs in three-plus innings against the New York Yankees
Sidelined by a triceps injury, Maeda made four minor league rehab appearances, most recently on June 16. He pitched 4 1/3 innings for Triple-A Saint Paul and gave up just one run and two hits, though he also issued four walks during the 81-pitch stint.
Maeda missed last season after undergoing Tommy John surgery. His last victory came Aug. 14, 2021, against the Tampa Bay Rays.
"I guess the next step would be to get a win in the big leagues," Maeda said. "That would perfect everything. ... To get that first win is huge, and just to be able to pitch well in the big leagues, I think that goes a long way for the rest of the season."
The Twins have won their past two games following a three-game losing streak
Byron Buxton is heating up after going 0-for-13 last week against the Tigers. He had four extra-base hits in the last three games, including a pair of homers in a 6-0 win over the Boston Red Sox on Thursday. Both long balls traveled over 460 feet
"The way he hits the ball when he hits it flush, it's unlike very many people anywhere in the world in this game," Minnesota manager Rocco Baldelli said. "It's almost like going to the driving range."
--Field Level Media