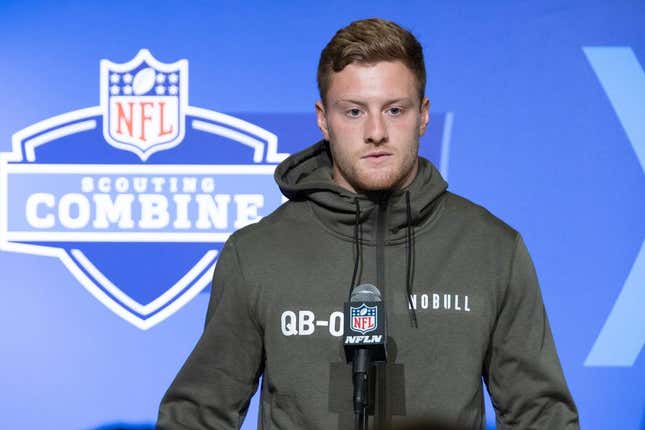 Will Levis can throw the ball a country mile. The Kentucky quarterback wouldn't dare pass on the opportunity to prove it to NFL general managers, coaches and peers at the Scouting Combine on Saturday.
"I've got a cannon, and I want to show it off," Levis said Friday morning, when attention was largely cast on those peers, Alabama quarterback Bryce Young and Ohio State's C.J. Stroud.
Levis wasn't mincing words about displaying his greatest asset to pro scouts this weekend.
The Penn State transfer who spent two seasons with the Wildcats and compiled 43 touchdowns would put his arm strength up against anyone -- not just in this draft class.
"I've got the strongest arm of anyone in any draft class in recent memory," Levis said.
Young will hold his on-field work until March 23 at the Alabama Pro Day in Tuscaloosa, which is scheduled to be a televised event aired by NFL Network.
Stroud, praised for uncanny accuracy, and Florida's Anthony Richardson are planning to throw Saturday. Richardson was asked Friday if he was aware some teammates thought he threw the ball too hard.
"I don't care if somebody complains about me throwing too hard. They better catch it," he said.
--Field Level Media