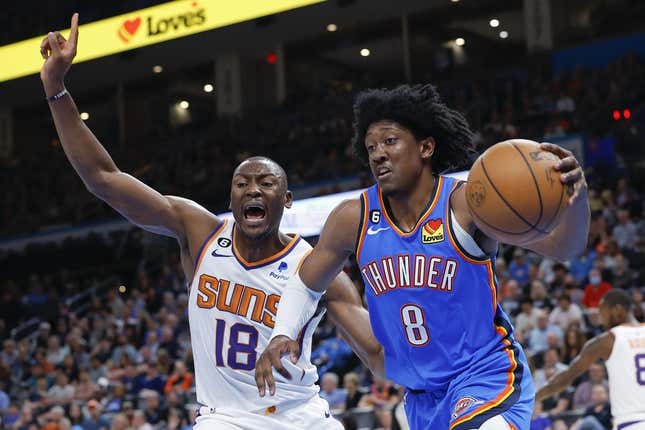 Kevin Durant scored 35 points to lead the Phoenix Suns to a 128-118 win over the Oklahoma City Thunder on Sunday in Oklahoma City
Durant scored 13 of his points in the fourth quarter, helping the Suns hold off a Thunder rally
Phoenix (43-35) has won five consecutive games, its longest winning streak since November.
Oklahoma City (38-41) has lost five of its last seven but remained a game up on Dallas for the 10th spot in the Western Conference - the final spot in the play-in tournament -- thanks to the Mavericks' loss to Atlanta earlier Sunday.
Oklahoma City cut what was a 16-point Suns lead to three on Isaiah Joe's 3-pointer with just more than five minutes remaining
But Durant answered Joe's three with one of his own and Deandre Ayton grabbed a rebound and hit a shot on the other end moments later to put the Suns back in control
Chris Paul assisted on both Durant's and Ayton's baskets.
Devin Booker finished with 22 points and 10 assists for the Suns while Ayton had 19 points and 11 rebounds
Paul had 16 points and eight assists -- five in the fourth quarter.
The Suns led by as many as 15 in the third quarter before Oklahoma City cut the deficit to six with an 11-2 run in less than two minutes midway through the quarter
Phoenix stretched the lead to 11 before the Thunder made their fourth-quarter push
Shai Gilgeous-Alexander had 39 points, making all 17 free throws he attempted.
Josh Giddey added 16 points, nine rebounds and eight assists. The game was tied entering the second quarter but the Suns came alive in the second
Phoenix hit 14 of 20 from the floor, scoring 42 points in the quarter to take a 14-point lead into halftime.
The Thunder kept a seat open for the late wife of Suns coach Monty Williams
Ingrid Williams died in a car accident in Oklahoma City in 2016 when Monty Williams was an assistant coach for the Thunder
--Field Level Media