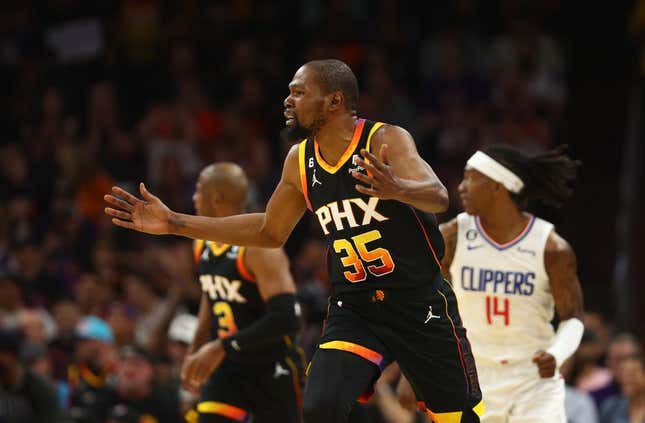 Midway through the third quarter Saturday, Devin Booker fired a sidearm pass across court to the left corner and casually walked down court, ready to play defense.
Air Jordans are more American than McDonald's French fries | Deon Cole's Ultimate Sports Fantasy
The eye-level pass found a wide-open Kevin Durant, who got into rhythm and drained what looked like an effortless 3-pointer. Booker already knew what was coming.
When the ball was in the air, the Phoenix Suns were down a point in Game 4 of their playoff series with the Los Angeles Clippers. After it splashed through the net, the Suns never trailed again
Durant scored 31 points with 11 rebounds in 45 minutes Saturday as the Suns grabbed a 3-1 lead in the Western Conference playoff series. The first opportunity to advance to the second round arrives Tuesday when Phoenix returns home to face the Clippers in Game 5
Outside of an ankle injury before his first home game with his new team, Durant's arrival from the Brooklyn Nets in February has been everything the Suns had hoped for. Phoenix was 8-0 in the regular season with Durant on the court and has won three more times in four tries during the playoffs, including Saturday's 112-100 victory
Booker added 30 points with nine rebounds Saturday, and Chris Paul tied it all together from the point-guard spot with 19 points and nine assists.
"We're still growing and still trying to learn each other," Durant said "We're still trying to figure out the best way for us to operate around each other. So it always helps when the shots go in. (We) made some big shots tonight. So, you know, it is always good when the shots go in."
While the Suns appear destined for a spot in the second round, likely against the Denver Nuggets, the Clippers' path is a bit murkier. After creating second-round hopes with a victory in the series opener, those dreams of advancing have been all but dashed
Los Angeles forward Kawhi Leonard missed his second consecutive game Saturday with a knee injury and the severity remains unknown.
Leonard has already been ruled out for Game 5.
The injury has brought back reminders of the 2021 playoffs, when Leonard missed the last eight games with a knee injury and the Clippers were eliminated by the Suns. He ended up needing ACL surgery that cost him the entire 2021-22 campaign
Without Leonard and Paul George, who has been out with a knee injury but worked out before Monday's practice, the Clippers have been competitive against the Suns but have lacked a finishing touch. Los Angeles led 66-65 in Game 4 until Durant's go-ahead 3-pointer with 5:19 remaining in the third quarter
The Clippers' Russell Westbrook scored 37 points on 17-of-29 shooting in Game 4. While taking over the primary scoring role, Westbrook has averaged 31.7 points over the last three games, while also adding 7.0 assists and 6.3 rebounds
"You lead and communicate with guys differently based on ways to get them responding," Westbrook said when asked about leadership roles without Leonard and George. "Throughout games, I try to find ways to lead, you know, not talk too much but make points, especially this time of year."
After a rough season when he struggled to adapt to Lakers stars LeBron James and Anthony Davis, was traded to the Utah Jazz, was waived and then signed by the Clippers, Westbrook has restored his image in his short time with his new team
"I feel like the only people that (criticize Westbrook) are the people who don't know basketball, you know what I'm saying? And don't know what it's like to compete." Durant said.
--Field Level Media