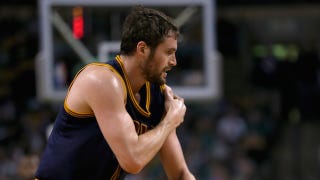 Kevin Love will miss the rest of the 2015 playoffs after undergoing surgery on his dislocated left shoulder, the Cleveland Cavaliers announced Wednesday night.
Love injured his shoulder in the fourth game of Cleveland's sweep of the Boston Celtics after tangling up with Boston center Kelly Olynyk. You can watch the play here:
Love averaged 16.4 points and 9.7 rebounds in his first season with the Cavaliers. His year in Cleveland was marked by intermittent fourth quarter benchings, a weird relationship with LeBron and a statistical decline from his years in Minnesota. Even still, Love was considered to be a key cog of the Cavs's championship hopes.
Love's recovery is expected to take four to six months. He can opt-out of his contract and become a free agent this summer. Cleveland will face the winner of the Bulls-Bucks series in the second round.
Photo via Getty