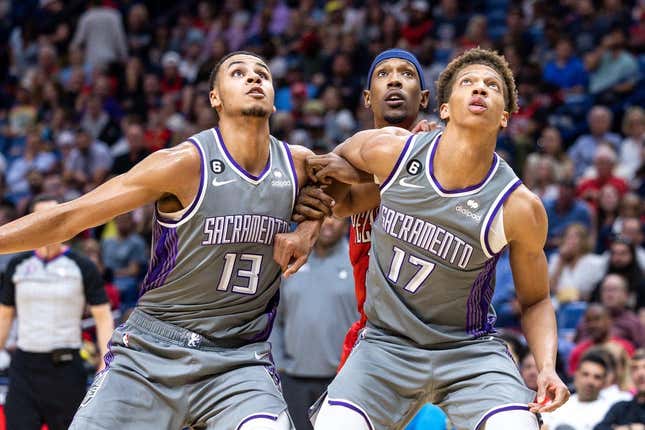 Time is running out for the Sacramento Kings and Dallas Mavericks to make a move in the standings
Will South Beach Flu give the Heat home court advantage? | Keep it a Buck(et)
The Kings (48-31) used a 121-103 victory at New Orleans on Tuesday night to clinch the Pacific Division title and keep pace with the Memphis Grizzlies (50-29) in their bid for the No. 2 seed in the Western Conference
The Kings hold the conference-record tiebreaker over the Grizzlies should they finish in a tie, but that would require Memphis losing at least twice in its final three games
After a stopover in Dallas, Sacramento finishes up with a home game against the Golden State Warriors on Friday and then travels to tussle with the Denver Nuggets on Sunday.
"I'm excited for this organization," gushed rookie Keegan Murray, who scored 21 points on seven 3-pointers against the Pelicans. "It's really cool for the city."
Meanwhile, the Mavericks (37-42) caught a break Tuesday when the Warriors posted a 136-125 victory versus Oklahoma City, dropping the Thunder (38-42) into a tie in the loss column with Dallas in their battle for the 10th and final play-in berth in the West
The Thunder hold the season-series tiebreaker over the Mavericks, meaning even if Dallas were to sweep its remaining games, Oklahoma City could claim the spot by winning its final two against the visiting Utah Jazz on Thursday and host Grizzlies on Sunday
After facing the Kings, the Mavericks wrap up with home games against the Chicago Bulls on Friday and San Antonio Spurs on Sunday
The season series between the Kings and Mavericks will be decided on Wednesday. The clubs split a two-game, same-site set in Sacramento in February, with the Kings rebounding from a 122-114 loss with a 133-128 overtime victory the next night
Domantas Sabonis was the star of Tuesday's win at New Orleans, recording a triple-double with 16 points, 12 rebounds and 11 assists.
Kings coach Mike Brown didn't say after the game whether going for the No. 2 seed was more important than resting his players for the start of the playoffs next week. But the Kings' postgame celebration of the franchise's first division title since 2003 might have provided the answer
The last time the Kings saw the Mavericks, Kyrie Irving was playing in just his second and third games with the team since being acquired from Brooklyn on Feb. 6. He had 25 points and 10 assists in the opener of the two-game set, then 28 and seven, respectively in the overtime loss the next night
Luka Doncic played only the second game of the sequence, going for 27 points and nine rebounds.
Having returned home from a five-game trip, the Mavericks will take the court saddled with a three-game losing streak. Irving and Doncic played together in each of the three losses
Both, however, are listed as questionable for the game against the Kings, with Irving bothered by a right-foot injury and Doncic a bruised thigh
A report circulated Wednesday that Irving and Doncic would be shut down for the rest of the season, but Doncic insisted that won't be the case at this point.
"I'm playing," he said of Wednesday's game. "When there's still a chance (for the playoffs), I'm going to play."
--Field Level Media