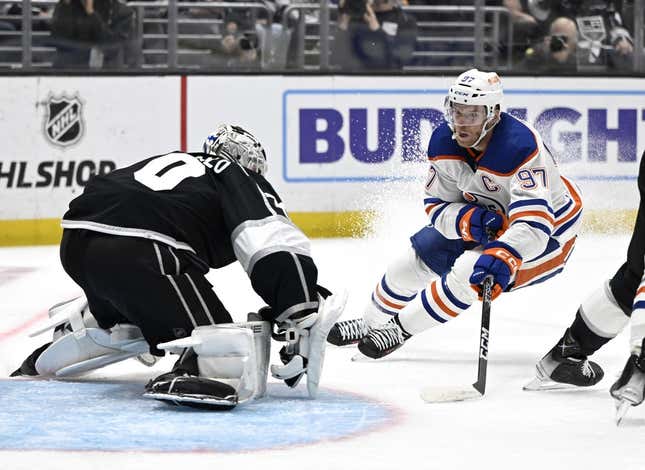 The Los Angeles Kings have forced the Edmonton Oilers to play their physical style for long stretches of their Western Conference first-round series
Are the Oakland A's a failed state? | Agree to Disagree
That's been less than desirable for the skillful Oilers, who find themselves backed into a corner heading into Game 4 on Sunday night in Los Angeles
The Kings won Game 3 in overtime on Friday night, getting a controversial goal from Trevor Moore to secure the 3-2 victory and a 2-1 series lead
"It's a tight-checking series, we've said that all along," Oilers captain Connor McDavid said. "It's little breaks here and there. It's little calls here and there. We haven't seemed to get many of the bounces.
After scoring 64 goals during the regular season, McDavid was held without a goal in the first two games before tallying twice in Game 3.
Ryan Nugent-Hopkins, who scored 37 goals during the regular season, is still looking for his first one of the series, as is 36-goal scorer Zach Hyman.
The Kings have been giving a lot of credit to goalie Joonas Korpisalo, who has a 2.53 goals-against average and .931 save percentage through the first three games
"He's done an amazing job for us," Kings forward Alex Iafallo said. "He's making huge saves on the power play, he's been great for us and that gives us energy.
Korpisalo said he's enjoying the experience of playing in front of a playoff crowd. His only other NHL postseason experience came in nine games with the Columbus Blue Jackets in the 2020 Stanley Cup playoffs, which were held without crowds because of the COVID-19 outbreak.
"That crowd was electric," Korpisalo said of Game 3. "We just fed off of it, and just seeing the building erupt on the last goal, it was pretty cool."
After cheering Moore's goal, the crowd had to wait several minutes while the referees reviewed whether the puck was played with a high stick by Kings forward Gabriel Vilardi seconds before the winning goal
When the play was upheld, the crowd erupted again.
The Oilers, however, saw the play differently, especially McDavid, who raised his hand in the air to get the official's attention after apparently seeing Vilardi's stick blade make contact with the puck while in the air
"I thought it was a play where the greatest player in the world, two feet away, as it happens, his arm comes straight up in the air because he knows that it hit the stick," Edmonton coach Jay Woodcroft said. "Otherwise, he wouldn't put his arm up in the air. He would keep playing. It appears to me in the video that the puck is going straight up in a trajectory and it deadens. In the end, I'm going to go with the greatest player in the world, who's three feet away."
Kings coach Todd McLellan said he expects the series to continue to be close, especially as both teams grow more and more familiar with each other
"There aren't a lot of secrets," he said. "There's not a sneaky play here or there. There might be the odd one, but for 60 minutes, it's two good teams playing real hard hockey and I don't see it changing."
--Field Level Media