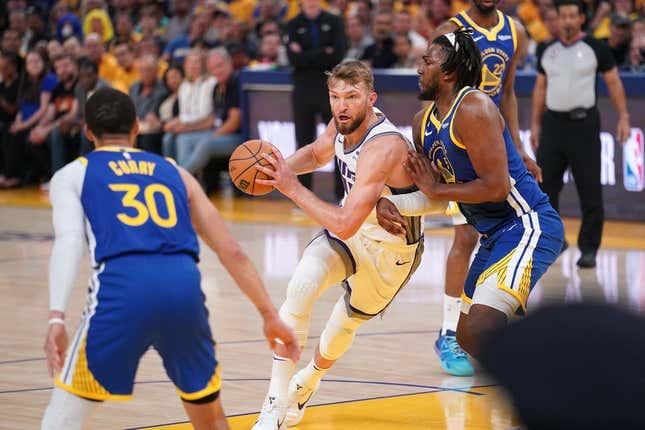 Malik Monk and De'Aaron Fox combined for 54 points and the Sacramento Kings forced a seventh and decisive game in their Western Conference first-round playoff series against the Golden State Warriors with a front-running, 118-99 victory in San Francisco on Friday
Chris Paul should ride the bench next season | Keep it a Buck(et)
The third-seeded Kings will get the finale of the best-of-seven at home on Sunday, earning a shot at their first playoff-series win in 19 years. In addition, another Sacramento win would eliminate the rival Warriors, the NBA's defending champions
The Kings led by as many as 11 points in the second quarter and never looked back, not only keeping the Warriors at arm's length throughout final period but also building upon a 10-point advantage with 12 minutes to go
Shooting with confidence for a team that led the Western Conference in road wins this season, Monk led the way with 28 points, helping the visitors run up a 52-21 advantage in points off the bench. Fellow reserve Trey Lyles also contributed 12 points for the Kings, who had fallen to the brink of elimination with a home loss in Game 5 on Wednesday
Fox had 26 points and Keegan Murray 15, with each finding time to complete a double-double. Fox accumulated a game-high 11 assists, while Murray grabbed a team-high 12 rebounds.
Murray shot 4-for-13 on 3-point attempts and Kevin Huerter 3-for-8 on a 12-point night, propelling the Kings to 17-for-45 (37.8 percent) success from beyond the arc. Sacramento held a 51-30 advantage in points off threes in the game, with Golden State going just 10-for-32 (31.3 percent)
Led by Murray, Domantas Sabonis (11) and Lyles (10 as part of a double-double), the Kings dominated the boards to the tune of 53-42 overall and 18-11 on the offensive end
Stephen Curry had a game-high 29 points and Klay Thompson 22 for the sixth-seeded Warriors, who haven't been in a Game 7 since winning at Houston in 2018 Western finals en route to the NBA championship
Curry shot 5-for-12 from 3-point range, but his teammates went just 5-for-20. Thompson struggled at 2-for-9, while Andrew Wiggins was 0-for-3 on a 13-point night.
The Warriors' Kevon Looney was the game's leading rebounder with 13, while Draymond Green had a team-high 10 assists
--Field Level Media