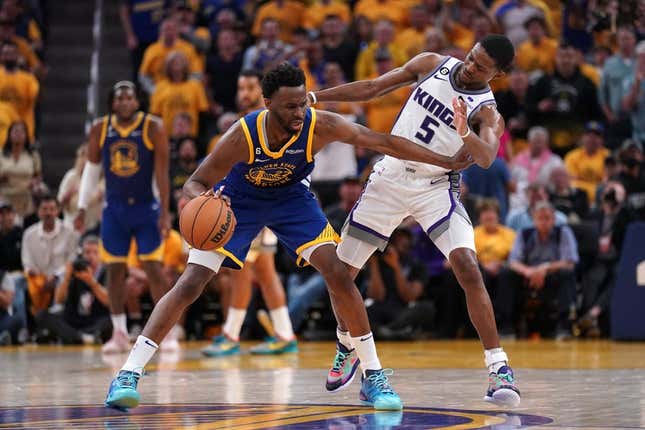 The Sacramento Kings not only have brought back the NBA playoffs to California's capital but also will return the excitement of a Game 7 when they host the Golden State Warriors on Sunday for a spot in the Western Conference semifinals
Bass' ERA stinks, but not compared to who he is off the mound | Worst of the Week Countdown
The game will match the youthful enthusiasm of the Kings and their postseason-starved fans against a veteran Warriors squad that's reached the brink of elimination after winning the 2022 NBA title
The winner will host the seventh-seeded Los Angeles Lakers in the opener of a best-of-seven series on Tuesday.
"That's part of the reason why we bust our behind all year," Kings coach Mike Brown said of having home-court advantage. The third-seeded Kings finished with a 48-34 regular-season record, which was five games better than the sixth-seeded Warriors
"We're excited," Brown continued. "We're going to play in front of our fans, and our fans are going to be excited, and the town and the organization definitely deserve this. Now we just got to go out there and try to get it done."
In the first-ever postseason matchup of the California rivals, the Kings got it done when facing possible elimination in Game 6 in San Francisco. They built a seven-point halftime lead on the strength of a spirited defensive effort before burying Golden State in a slew of 3-pointers
The best road team in the West during the regular season, the Kings shocked the Warriors by outscoring them 51-30 from beyond the arc. Keegan Murray (four), Malik Monk (three) and Kevin Huerter (three) combined for 10 of the team's 17 successes, but five other Kings also made at least one
Meanwhile, the Sacramento defense harassed the hosts into 10-for-32 shooting from beyond the arc. Stephen Curry shot 5-for-12 from 3-point range.
Warriors coach Steve Kerr blamed the loss on the Kings' sense of urgency compared to his team's inexplicable comfort level
He's now counting upon his club's playoff experience to rule supreme in a building in which the Warriors won 123-116 on Wednesday
"This is all part of it. We've been through everything," Kerr said of the ups-and-downs of an NBA seven-game series. "We've won a Game 7 on the road before in the playoffs. We know we can do it. But we've got to regroup and kind of fill up the cup and get our energy ready."
When last seen in a Game 7, the Warriors were winning 101-92 at Houston in the 2018 Western Conference Finals. Curry (27) and Klay Thompson (19) combined for 46 points and Draymond Green (10 points, 13 rebounds) contributed a double-double to a win that sent Golden State to the NBA Finals
This time, it's a ticket to the second round that's at stake. The Warriors have never lost a first-round series under Kerr (6-0) and, in fact, have won 18 consecutive series against Western competition
All that has happened since the last time the Kings were in the playoffs. They lost in the first round in their two most recent treks into the postseason -- to the Seattle SuperSonics in 2005 and San Antonio Spurs in 2006 -- those coming after they also lost their last Game 7 appearance to the Minnesota Timberwolves in 2004
--Field Level Media