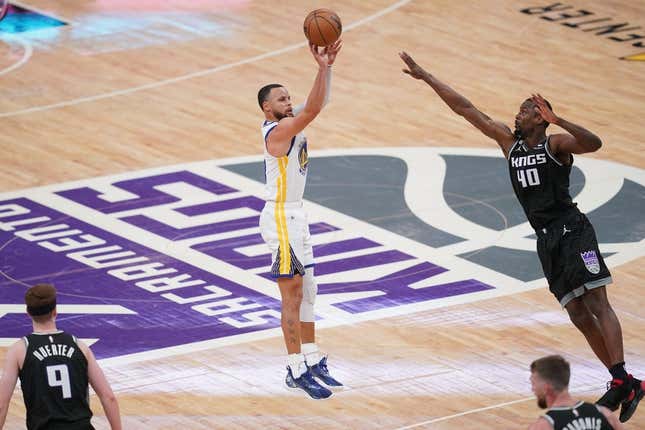 The Sacramento Kings said they are looking into hip-hop performer E-40's ejection from the arena during Saturday night's game against the Golden State Warriors -- a move he contended was racially motivated
Air Jordans are more American than McDonald's French fries | Deon Cole's Ultimate Sports Fantasy
"The Sacramento Kings take these claims seriously and are investigating the facts and circumstances regarding the situation, as we do anytime an accusation like this is made," the team said in a statement issued Sunday
E-40, born Earl Stevens, is a fervent Warriors fan, and he was on hand in Sacramento as the Kings defeated the Warriors 126-123 to take Game 1 of their first-round Western Conference playoff series
The rapper, who was sitting near the Warriors bench, said he was heckled throughout the game
"During the fourth quarter, I finally turned around and addressed one heckler in an assertive but polite manner. Yet, shortly thereafter, Kings' security approached me, assumed that I instigated the encounter and proceeded to kick me out of the arena," the 55-year-old said in a statement, per The Athletic
"Unfortunately, it was yet another reminder that -- despite my success and accolades as a musician and entrepreneur -- racial bias remains prevalent. Security saw a disagreement between a Black man and a White woman and immediately assumed that I was at fault.
"I've attended countless NBA games throughout my lifetime and have always prided myself in my professionalism, so this experience has been jarring. I was absolutely humiliated by the Kings security team and I'm calling on the franchise to investigate the appalling conduct that transpired.
The series resumes Monday night in Sacramento, with Game 3 set for Chase Center in San Francisco on Thursday.
--Field Level Media