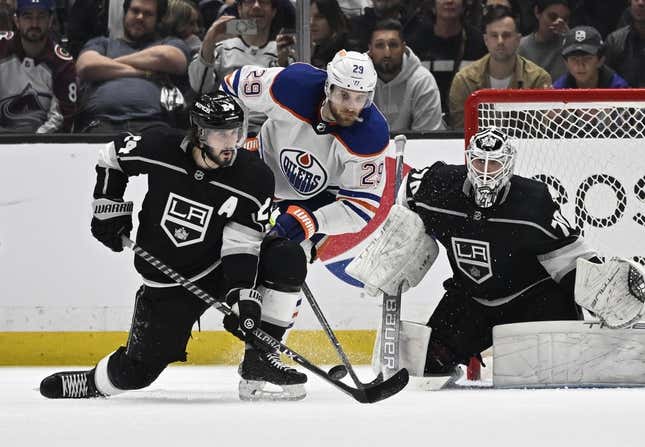 The Edmonton Oilers showed their mettle with a thrilling comeback to claim Sunday's 5-4 overtime clash with the Los Angeles Kings and even their Western Conference first-round playoff series
Aaron Rodgers should go full Joe Namath | Comedian Bert Kreischer
Now, it is the Kings' turn to rebound when the series resumes Tuesday in Edmonton
The Kings blew a 3-0 lead after the first period and then a 4-3 edge with just over three minutes remaining in regulation Sunday. Instead of Los Angeles holding a commanding series lead, the best-of-seven set is tied 2-2
It will not be easy for the Kings to regain momentum, especially on the road, but they are well aware that is part of the task at hand
"We'll present to them a lot of the good things that we did in the game, and there was a lot," Kings coach Todd McLellan said on Monday before his team departed from Los Angeles. "And we'll talk about the opportunity that's in front of us going to Edmonton.
The Kings are the underdogs, especially with Edmonton holding home-ice advantage, but they have proven they can hold their own with the Oilers
"It's been a strange series, it seems like the team that gets the lead takes its foot off the gas a little bit and sits back," said McLellan, whose team used comebacks in both of its wins and erased a 2-0 deficit before dropping Game 2. "I don't know if we were sitting back, but they took advantage of their power plays, and then in the third we came back out and played the way we wanted to. From there, it was fairly even.
"Hell of a series so far. Two really good teams that are playing hard. Good hockey."
Both clubs have been successful with the man advantage, although the Oilers are in a stratosphere of their own. While the Kings are 5-for-17 (29.4 percent) in the series, the Oilers are 6-for-11 (54.6 percent). Edmonton set an NHL record with a 32.4 percent mark during the regular season
Between the special-teams play and comebacks, the rematch of last year's first-round meeting that Edmonton claimed in seven games has already become a compelling series. Add the element of a goalie switch after the first period -- former Kings netminder Jack Campbell took the Edmonton net after Stuart Skinner surrendered three goals -- and the intrigue is elevated
It remains to be seen whether the Oilers can actually take a series lead upon gaining the momentum
"We are a very, very resilient group, and we're not going to quit ever, no matter what," said Edmonton forward Leon Draisaitl, who has racked up nine points. "Really proud of the guys, but that's only two (wins). It's first to four."
The Kings won the series opener as well as Game 3. The Oilers can ill afford to assume the Kings will roll over after a disappointing defeat
"There have been three overtime games (in the series) and the other one was tight down to the wire," said Oilers forward Zach Hyman, who netted his first career playoff overtime goal on Sunday. "There is not much space. Two good teams, two good power plays
"... This is what was to be expected going in. Everyone thought this was going to be a tough series. Nobody thought it would be an easy one, and now it's a best-of-three."
--Field Level Media