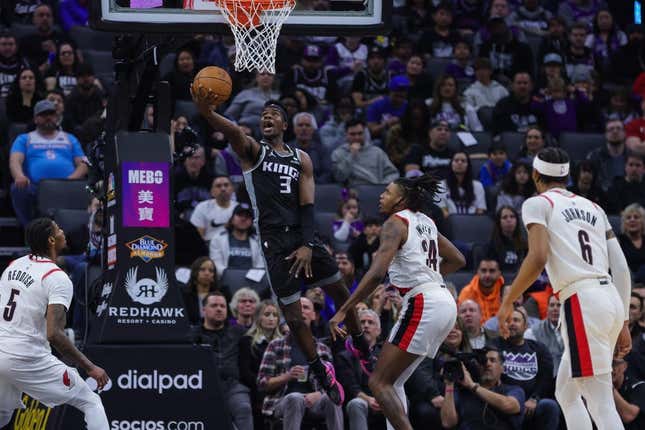 De'Aaron Fox took advantage of a short-handed and travel-weary Portland Trail Blazers roster to pour in 31 points as the Sacramento Kings returned from the All-Star break with a 133-116 romp on Thursday night.
Domantas Sabonis had a triple-double for the Kings, who won for the fourth time in six games.
The Trail Blazers elected to hold Damian Lillard and Jerami Grant out of the game after Portland, following a long weather-related delay on the runway and eventual flight cancellation on Wednesday night, was unable to travel into the California capital until Thursday morning.
The 11 players who suited up for the Trail Blazers didn't appear to be bothered by the nuisance early in the game, as Portland blasted out to 11-2, 19-4 and 27-11 leads en route to a 37-29 advantage through 12 minutes.
But the rest of the night belonged to the Kings, who scorched the Portland defense for 54 percent shooting en route to their 15th 130-point game of the season.
Fox posted 30 or more points for the fifth straight contest. He hit 11 of his 15 shots and seven of his eight free throws on a night when the Kings outscored the guests 25-14 at the line.
All five Kings starters scored in double figures, including Sabonis with 18 points to complement a game-high 18 rebounds, a game-high 10 assists and three steals. The triple-double was his seventh of the season.
Terence Davis and Malik Monk chipped in with 20 and 15 points, respectively, off the bench, while starters Harrison Barnes (15), Keegan Murray (10) and Kevin Huerter (10) also contributed on offense.
Davis shot 4-for-5 on 3-point attempts. The Kings went 14-for-34 (41.2 percent) from beyond the arc as a team.
Making his second start of the season, Nassir Little paced the Trail Blazers with a season-best 26 points, 11 more than he had in any previous game. He shot 10-for-19 and accounted for five of the visitors' 16 3-pointers.
Playing his fourth game since arriving in a trade with the New York Knicks, Cam Reddish added 24 points for Portland, which also was playing without Anfernee Simons (ankle). Keon Johnson had 16 points and Trendon Watford 15 in the club's second straight defeat.
The meeting was the first since the Trail Blazers won 115-108 at Sacramento on opening night. Grant (23), Simons (22) and Lillard (20) combined for 65 points in that game.
--Field Level Media