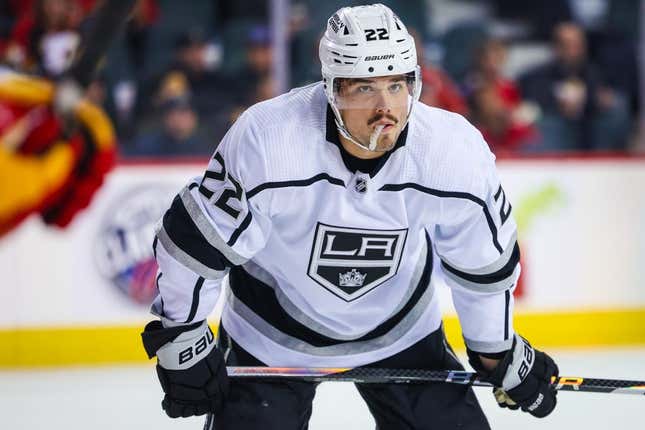 The Los Angeles Kings are running out of time to get healthy and correct some mistakes that have crept into their game in the past couple of weeks
'Soccer fandom is full of gatekeepers' says Ted Lasso actor Brendan Hunt
They'll work on the second part when they host the Vancouver Canucks on Monday night
The Kings (45-25-10, 100 points) have lost five of seven following a franchise-record 12-game points streak
The sudden skid not only ended their pursuit of the Pacific Division title, but dropped them into third place with the Seattle Kraken just two points back in fourth.
Los Angeles has two games remaining and the Kraken have three.
"We're going to have to continue to play hard and fix a few of the things that might be broken," Kings coach Todd McLellan said. "Then, when the playoffs start, it's a brand new year.
It would help if Los Angeles could get some of its injured players back in time for the postseason.
Kevin Fiala has missed the past four games with a lower-body injury that appears to be related to the same injury that sidelined him for six games in March.
Fiala co-leads the Kings in points with 72 (23 goals, 49 assists)
Los Angeles has been without another 23-goal scorer, Gabriel Vilardi, who has missed the past seven games with an upper-body injury. Defensemen Mikey Anderson and Alexander Edler have also missed recent games with upper-body injuries.
"We'll see if we can get some bodies back," McLellan said. "That would certainly help as well, but we have what we have and that's what we're dealing with, and we've got to get the best out of them."
McLellan let it be known after a 4-3 loss to the visiting Colorado Avalanche on Saturday that he needs certain players to step up offensively.
Rasmus Kupari, a first-round pick in the 2018 NHL Draft by Los Angeles, hasn't scored a goal in the past 39 games.
Quinton Byfield, the second overall pick in the 2020 NHL Draft, has one goal in the past 32 games, and veteran Phillip Danault has gone 14 straight games without scoring a goal.
"Some guys have been snake bitten for a while and maybe there's a reason for that, but you've got to bear down and finish on those opportunities," McLellan said.
The Canucks (36-36-7, 79 points) finish out their season with a three-game road trip beginning in Los Angeles
They put a slight dent in the playoff hopes of the visiting Calgary Flames with a 3-2 shootout win on Saturday.
"We know where they are," Vancouver forward Elias Pettersson said of the Flames. "We knew they were going to come out hard and we wanted to match that, and I think we did a really good job."
Vancouver coach Rick Tocchet wasn't as complimentary.
He thought the Canucks showed some retreat when the Flames made their push and relied too much on goalie Thatcher Demko, who made 41 saves
"It's not really winning hockey for me," Tocchet said. "We've got to get that out of here. You've got to lock it down and you can't just rely on (Demko)."
--Field Level Media