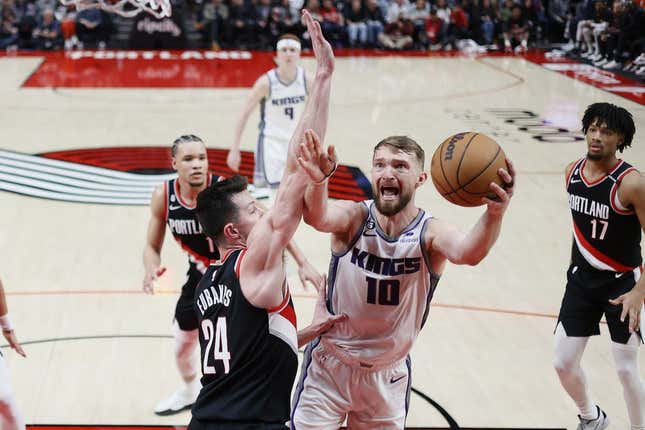 Domantas Sabonis had 20 points, 12 rebounds and eight assists and De'Aaron Fox registered 20 points, 11 assists and eight rebounds to help the Sacramento Kings roll to a 138-114 victory over the host Portland Trail Blazers on Friday night
Keegan Murray and Malik Monk each scored 20 points and made four 3-pointers for the Kings (47-30), who won back-to-back games against the Trail Blazers by an average of 32 points. Kevin Huerter also made four 3-pointers while scoring 14 points for Sacramento, which has won four of its past five games
In the first end of the back-to-back, Sacramento rolled to a 120-80 victory on Wednesday when it clinched its first postseason berth since 2006. The third-place Kings remain two games behind the Memphis Grizzlies in the Western Conference
Shaedon Sharpe scored 27 points for his fifth 20-point effort in the past six games for Portland (32-45). Drew Eubanks recorded 18 points and 10 rebounds and Skylar Mays scored 14 points in his team debut as the Trail Blazers dropped their fifth straight game and 11th in the last 12
Portland again was without four starters -- Damian Lillard (calf), Jerami Grant (quadriceps), Jusuf Nurkic (knee) and Anfernee Simons (foot). Keon Johnson (fractured finger) also missed the game.
Harrison Barnes added 11 points and Kessler Edwards scored 10 as Sacramento shot a season-high 61.4 percent from the field, including 19 of 39 from 3-point range.
The Trail Blazers made 47.1 percent of their attempts and were 19 of 38 from behind the arc. Jabari Walker added 11 points for Portland
The Kings led by 12 at halftime and used an 8-0 run early in the quarter to build the lead to 82-64. Murray and Fox hit 3-pointers 20 seconds apart and Fox added a long jumper with 8:52 remaining
Sacramento led 104-89 entering the final stanza but Portland later rattled off nine straight points to move within 110-103 with 7:41 left.
The Kings responded swiftly with eight consecutive points and 22 of the next 24. Monk and Murray drained 3-pointers and Sabonis added a layup to increase the margin to 15 with 6:24 remaining
Eubanks scored for the Trail Blazers before Sacramento scored 14 more in a row. Davion Mitchell's layup pushed the lead above 20 at 126-105 lead with 3:40 left
Murray, Terence Davis and Alex Len scored baskets to complete the run and make it a 27-point lead with 2:25 left.
Huerter scored all his points in the first half as Sacramento led 71-59 at the break.
--Field Level Media