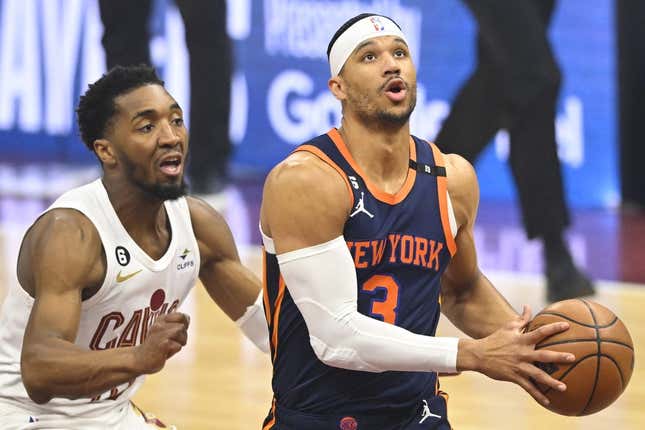 Jalen Brunson scored 23 points and the New York Knicks advanced past the opening round of the playoffs for the first time since 2013, closing out the host Cleveland Cavaliers on Wednesday with a 106-95 victory in Game 5 of an Eastern Conference series
Bass' ERA stinks, but not compared to who he is off the mound | Worst of the Week Countdown
Fifth-seeded New York never trailed and built an advantage of as many as 18 points, flexing its defensive muscle and dominance on the glass. The Knicks held the Cavaliers to fewer than 100 points for the fourth time in the series, and New York won all of those games
The Knicks advance to oppose the winner of the series between the Miami Heat and the Milwaukee Bucks
New York enjoyed a 48-30 rebounding edge with Mitchell Robinson pulling down 18 boards, 11 of them on the offensive end. The Knicks posted an overwhelming 20-3 advantage in second-chance points
Robinson also scored 13 points to record a double-double. He was one of six Knicks to finish in double-figures scoring, joining Brunson, RJ Barrett with 21 points, Julius Randle with 13 points, and Immanuel Quickley and Obi Toppin with 19 and 12 points, respectively, off the bench
Randle dished a game-high six assists, and Josh Hart contributed to New York's rebounding effort with 12 boards.
Fourth-seeded Cleveland made a fourth-quarter push to pull within a 90-84 deficit with 8:10 remaining. Darius Garland scored seven of the Cavaliers' points in succession during the rally effort en route to 21 points
The Knicks answered Cleveland's surge with a quick 6-0 burst that was part of a larger 10-2 run
The Cavaliers pulled back to within seven with 73 seconds remaining when Donovan Mitchell knocked down a 3-pointer, part of his game-high 28 points. However, but Quickley sank four consecutive free throws to effectively put the game -- and series -- away
Caris LeVert scored 17 points for Cleveland, and reserve Isaac Okoro added 10 points. Evan Mobley had a team-high nine rebounds.
While the playoff appearance was the Cavaliers' first since 2018, the opening-round exit was the franchise's first since 1998
--Field Level Media