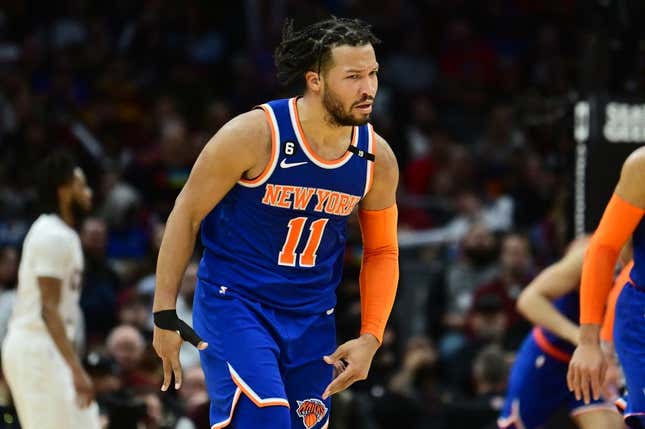 The New York Knicks began to learn what it'll be like to play without Julius Randle on Friday night
Does Jimmy Butler have the best NBA Finals origin story? | Agree to Disagree
Fortunately for the Knicks, they've still got Jalen Brunson
The Knicks will look to continue building momentum for the playoffs Sunday night, when they are slated to host the Washington Wizards in the final game of the season between the longtime rivals
Both teams were off Saturday after playing Friday. The Knicks solidified their grip on fifth place in the Eastern Conference with a 130-116 win over the host Cleveland Cavaliers while the Wizards' hopes of qualifying for the play-in tournament took another hit when they squandered a double-digit fourth-quarter lead in a 116-109 loss to the visiting Orlando Magic
The win gave the Knicks (45-33) a chance to clinch a playoff berth before taking the court Sunday. New York is 2 1/2 games ahead of the sixth-place Brooklyn Nets (42-35) and 4 1/2 games ahead of the seventh-place Miami Heat (40-37) entering the Heat's game against the Dallas Mavericks on Saturday night. The top six teams in each conference advance to the playoffs, with the seventh- through 10th-place finishers competing in a play-in tournament for the final two berths
The only way the Knicks can fall into the play-in tournament is if they lose out and finish in a three-way tie for fifth with the Nets and Heat
Brunson did his best to make that all but impossible on Friday, when he scored a career-high 48 points and outdueled the Cavaliers' Donovan Mitchell in a battle of star guards.
Brunson, who has missed seven of the Knicks; last 14 games due to hand and foot injuries, added nine assists and committed just two turnovers in 37-plus minutes as New York played without Randle for the first time this season Randle is expected to miss at least the rest of the regular season with a sprained left ankle suffered in Wednesday's 101-92 win over the Heat
"I think there's nothing that he does that surprises you and it's a testament to how tough-minded he is," Knicks coach Tom Thibodeau said. "He's nicked up a little bit, but he's a machine. He just keeps going. And I think that's the best leadership you could have.
An untimely inconsistent stretch continued Friday for the Wizards (34-43), who fell three games behind the 10th-place Chicago Bulls by virtue of their loss and the Bulls' 121-91 win over the Charlotte Hornets. Both Washington and Chicago have five games left
The Wizards have lost six of eight and are 10-17 since Feb. 1, a span in which they've won back-to-back games just three times.Washington seemed primed to build a much-needed winning streak Friday when they carried a 96-85 lead into the fourth quarter against the Magic
But the Wizards -- who were missing their three leading scorers in Kristaps Porzingis (illness), Bradley Beal (left knee) and Kyle Kuzma (right ankle) and played the second half without point guard Monte Morris (right ankle) -- shot just 21.7 percent (5-of-23) in the final 12 minutes and were 1-of-11 from 3-point land against the zone defense deployed by Orlando, which finished the game on a 31-13 run
"We got a little rattled with the zone defense," Wizards coach Wes Unseld Jr said. "We were struggling with the open threes. I thought we missed a few and we got a little hesitant.
Beal, Kuzma and Porzingis will all miss Sunday's game. Morris is listed as questionable.
--Field Level Media