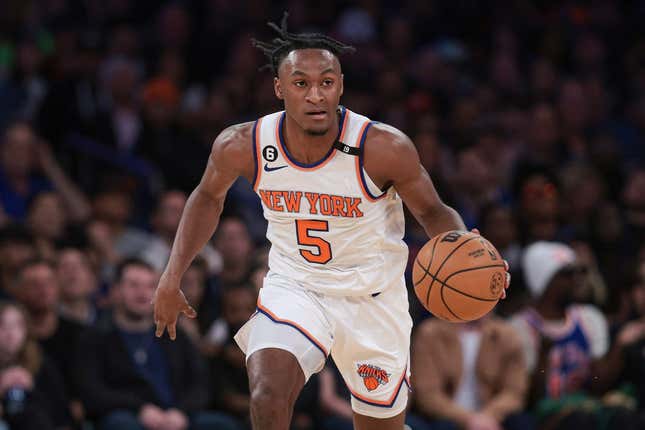 Everything is going according to plan for New York Knicks coach Tom Thibodeau, whose squad faces the visiting Indiana Pacers on Sunday in the regular-season finale for both teams
Air Jordans are more American than McDonald's French fries | Deon Cole's Ultimate Sports Fantasy
New York (47-34) has clinched the No. 5 seed in the Eastern Conference and will begin a first-round playoff matchup against the No. 4-seed Cleveland Cavaliers. The Knicks' preparation for the series has involved resting several regulars
The pattern continued in a 113-105 loss to the New Orleans Pelicans on Friday, when the Knicks played without Julius Randle (ankle), Jalen Brunson (hand) and Mitchell Robinson (rest)
The loss snapped the Knicks' five-game winning streak, but Thibodeau said he's more concerned about keeping his team on the right track heading into the postseason
"There's a format that we follow," Thibodeau said. "We're following that format, collecting the data, organizing it. Putting books together. You go into the series, you have to take it step-by-step. Finish the season, try to finish the season as strong as you can. Then once you get to the playoffs you lay out your playoff format. So it's just the next progression of what we've already begun."
Knicks guard Immanuel Quickley bolstered his case for the NBA's Sixth Man of the Year award by making six 3-pointers and scoring 24 points in the loss to the Pelicans, doing it as a starter. Quickley has scored 22 points or more in six of his last seven games
RJ Barrett returned following a two-game absence due to illness and led New York with 28 points. New York lost after allowing the Pelicans to shoot 53.2 percent.
"I like the effort. I didn't like our defense," Thibodeau said. "We did a very good job offensively, creating open shots and we missed some really good shots. We didn't do enough things to win but we put ourselves in a position to win and fell short."
The Knicks are seeking a season sweep of Indiana (34-47) after winning the three previous meetings, including a 138-129 victory on Wednesday
The Pacers were mathematically eliminated from playoff contention last Sunday and have been resting several rotation players, including Tyrese Haliburton (ankle) and Myles Turner (ankle)
Buddy Hield made five 3-pointers and finished with 22 points in the Pacers' 122-115 loss to the Detroit Pistons on Friday. Hield has made a career-high 283 3-pointers this season, giving him 1,700 for his career
"It's a historic season for Buddy Hield," Indiana coach Rick Carlisle said. "He sets the Pacers all-time 3-point record, and he surpasses his own career high. Career-wise, he's on pace to be one of the most prolific shooters of all-time. He's had a great year shooting the ball, no question about it.
Carlisle has given more playing time to young players Bennedict Mathurin and Isaiah Jackson in recent weeks. The pair combined for 31 points in Friday's loss to Detroit. Jackson also contributed seven rebounds and blocked three shots.
After starting just six of the Pacers' first 67 games, Mathurin has moved into the starting lineup for the past 10 contests. The promising rookie is averaging 16.6 points on 43.4 percent shooting
"I'm getting used to what I'm going to be doing for the rest of my career," Mathurin said. "Being a starter is one of my main goals, so it has to start somewhere, but it also comes with a lot of responsibilities and a lot of challenges as well, so I'm just trying to get used to it."
--Field Level Media