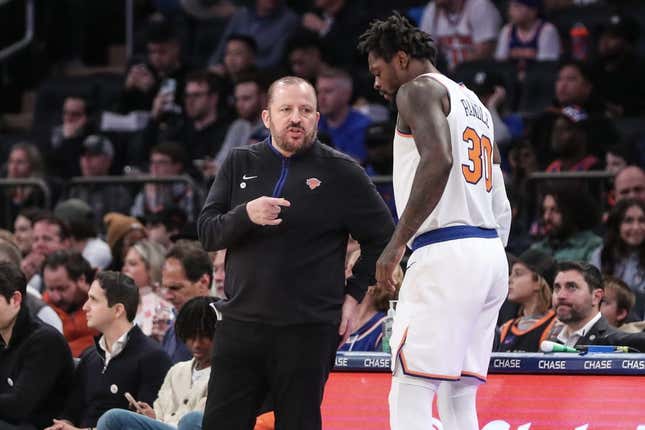 In the position of the New York Knicks, who have a playoff berth locked up and their first-round opponent determined, most teams would begin looking ahead to the postseason
Chris Paul should ride the bench next season | Keep it a Buck(et)
But not the Knicks under head coach Tom Thibodeau
The Knicks begin their tuneup for the playoffs Wednesday night, when they are slated to visit the Indiana Pacers in the first of two matchups between the longtime rivals in the final five days of the regular season
Both teams played Sunday, when the Knicks clinched a playoff berth by beating the visiting Washington Wizards 118-109 and the Pacers were eliminated from postseason contention with a 115-105 loss to the host Cleveland Cavaliers
The Cavaliers are the next opponent that matters for the Knicks, who are locked into that playoff matchup. The Knicks (46-33) are assured fifth place in the Eastern Conference after the sixth-place Brooklyn Nets fell to the Minnesota Timberwolves on Tuesday night
The Nets (43-36) still could tie the Knicks, but New York has the tiebreaker by virtue of a better conference record
The Cavaliers (50-30) were locked into the fourth seed on Tuesday night, when they beat the Orlando Magic 117-113 and the third-seeded Philadelphia 76ers edged the Boston Celtics 103-101.
Earlier Tuesday afternoon, hours before the Cavaliers officially became the Knicks' first-round foe, Thibodeau said it was "hypothetical" to begin wondering how he might handle the final three games for his nicked-up team
Power forward Julius Randle will miss the remainder of the regular season due to a sprained left ankle while star point guard Jalen Brunson has missed seven of the last 15 games due to hand and foot injuries. Guard RJ Barrett, who missed Sunday's game due to a non-COVID illness, is expected to return Wednesday.
"Approach every game like it's your last -- same mentality as the first 79 games," Brunson said of the Knicks, who are scheduled to host the Pacers in the regular season finale Sunday. "Nothing changes.
While the Pacers (34-45) have shown improvement following their worst season in almost four decades, the end result is the same after an untimely fade cost them any chance at qualifying for the Eastern Conference play-in tournament. Indiana has missed the playoffs three straight years
The Pacers, whose 57 losses last season were their most since the 1984-85 team finished 22-60, reached the midway point of this season with a 23-18 record but are 11-27 since, including 2-7 since March 18. Only one of the defeats in the latter stretch has been by fewer than 10 points
But with only two rotation members older than 27 years old, head coach Rick Carlisle is hopeful Indiana is on the verge of turning the corner. The Pacers have five picks in the upcoming draft and cleared more than $10 million in cap space with a series of minor deals at February's trade deadline
Three of those picks will come in the first round.
"We're competing and there are a lot of positives from these experiences," Carlisle said Sunday night. "We've got cap flexibility and we've got assets. We're headed into a big summer and an important draft."
Carlisle said last week a pair of the Pacers' building blocks -- leading scorers Tyrese Haliburton and Myles Turner -- could be shut down for the remainder of the season due to injuries. Haliburton missed the past four games with a sprained right ankle while Turner has been sidelined the last five games due to a sore back and a left ankle ailment
--Field Level Media