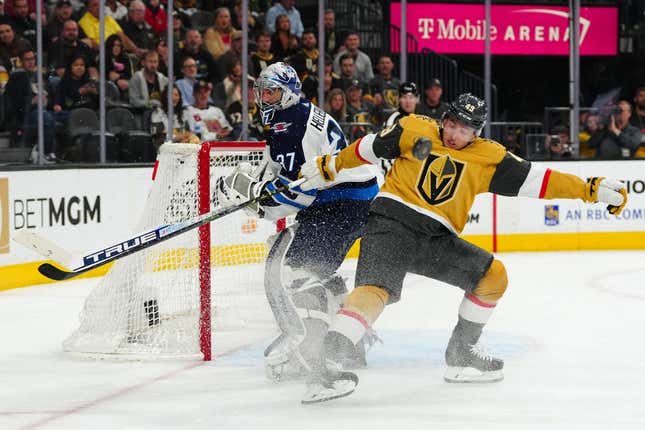 Despite hearing their share of boos in the third period of a 5-1 home loss to the Winnipeg Jets in the opener of their Western Conference first-round series, the Pacific Division champion Vegas Golden Knights aren't ready to hit the panic button heading into Game 2 on Thursday night in Las Vegas
Bass' ERA stinks, but not compared to who he is off the mound | Worst of the Week Countdown
"I look at it now, we've got to win four out of six," Vegas captain Mark Stone said. "It doesn't matter how you do it; you just got to do it."
The top-seeded Golden Knights finished with just 17 shots on goal in the loss, a team record for fewest shots in a playoff game. Vegas managed just two shots in the third period, including one during the first 15 minutes
"A lot of self-inflicted wounds," said Stone, who played his first game since undergoing his second back surgery in nine months on Jan. 31. "It wasn't a great night for us, right? Obviously we would have liked to come out with a better effort.
"I don't know if we thought just being the one seed (it'd) be easy, but we've been in this position before. Obviously, the last couple seasons we've had slow starts to series. We've got enough veteran guys here, enough guys who have won at this level to get this ship turned around."
Jack Eichel, making his playoff debut in his eighth season, fired a close-in shot from the right side over the goal early in the first period that would have given the Golden Knights a 1-0 lead. Eichel also lost a key puck battle to Blake Wheeler along the boards that eventually resulted in a Wheeler goal that made it 3-1 early in the third period
"We got to be resilient here," Eichel said. "It's a seven-game series. We got to just come back and be better next game."
Winnipeg coach Rick Bowness knows the Jets will get the Golden Knights' best shot in Game 2
"We know Thursday night's going to be a lot tougher game," Bowness said. "And Game 3 will be tougher, and Game 4 will be tougher. That's what happens in the playoffs."
Adam Lowry scored two goals late in the third period, Wheeler had a goal and two assists and Pierre-Luc Dubois had a goal and an assist to lead the Jets in the opener. But it was a nasty skate cut to the side of the head that ended near the right eyebrow to center Morgan Barron that dominated the postgame talk afterward
During a goalmouth scrum in the first period, Vegas goaltender Laurent Brossoit dove into the crease to try and cover a loose puck. Brossoit's skate got caught under Barron's visor, causing a cut that needed approximately 75 stitches to close.
"It looked like he got attacked by a shark," Lowry said. "It's a scary thing. We were all so worried about whether the puck would cross the line, and all of a sudden we see a trail of blood from the crease to the bench, and you don't know what happened."
Remarkably, Barron, who texted his parents and girlfriend to let them know he was OK while getting stitched up, returned in the second period and played almost 11 minutes in the contest. He finished with more shots on goal (three) than Eichel (two) and Stone (zero) combined.
"And of course, he went right out and he banged into someone," Bowness said. "That's Winnipeg Jet hockey. Morgan's a perfect example of that."
--Field Level Media