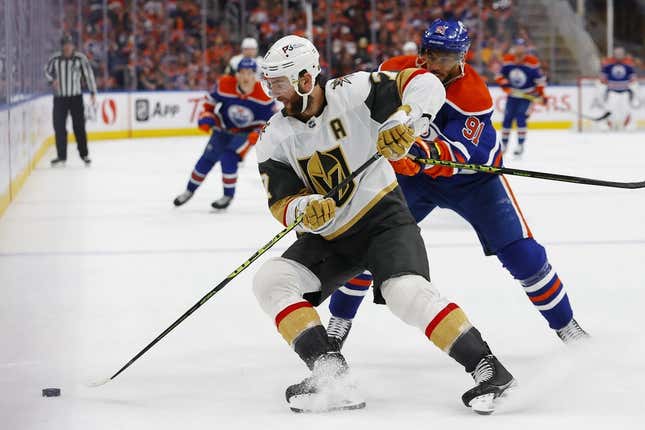 Vegas Golden Knights defenseman Alex Pietrangelo will have a hearing with the league on Thursday after slashing Edmonton Oilers star Leon Draisaitl on Wednesday night
'Soccer fandom is full of gatekeepers' says Ted Lasso actor Brendan Hunt
Pietrangelo received a five-minute major and a game misconduct after slashing Draisaitl while he was attempting an empty-net shot late in the third period of the Oilers' 4-1 win in Game 4
Edmonton captain Connor McDavid said Pietrangelo should be suspended.
"You would like to see it reviewed for sure. I'd like to see it suspended," McDavid said. "It was as intent to injure as you can get. That was not a hockey play."
The Western Conference second-round series is tied at 2-2 with Game 5 scheduled for Friday night in Las Vegas.
Pietrangelo, 33, has one assist in the series. The three-time All-Star recorded 54 points (11 goals, 43 assists) in 73 games during the regular season.
Draisaitl, 27, has six goals and one assist in the series and leads the Stanley Cup playoffs in goals (13) and points (18). He posted a career-high 128 points (52 goals, 76 assists) in 80 games in the regular season.
--Field Level Media