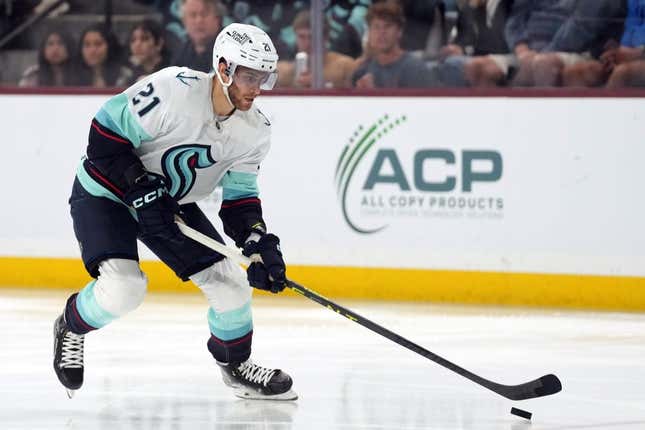 The Seattle Kraken became the second expansion team to hit the 100-point mark in its second season on Monday night when they skated to a 4-1 victory over the Arizona Coyotes in Tempe, Ariz
Aaron Rodgers should go full Joe Namath | Comedian Bert Kreischer
Now, the Kraken will finish the regular season with a home-and-home against the first team to accomplish the feat, the Vegas Golden Knights, starting on Tuesday night in Las Vegas
Vegas finished with 109 points in its storybook inaugural season in 2017-18, when it went to the Stanley Cup Final, losing in five games to the Washington Capitals.
Seattle (46-26-8, 100 points) briefly took over third place in the Pacific Division with its third win over the Coyotes in an eight-day span before the Los Angeles Kings (46-25-10, 102 points) wrapped up a 3-0 home victory over Vancouver to regain third place. Jared McCann scored his 40th goal of the season and added an assist.
It's still possible that the Kraken, who have won five in a row and already have locked up at least the No. 1 wild-card spot in the Western Conference, could lap the Kings at the finish line
Seattle still has two games and a possible four points remaining while Los Angeles has just one game at Anaheim on Thursday left. The Kraken also hold a 37-36 edge in the regulation-wins tiebreaker
Pacific Division-leading Vegas (49-22-9, 107 points), which holds just a two-point edge over second-place Edmonton (48-23-9, 105 points), also has plenty to play for, including the No. 1 seed in the Western Conference.
The Oilers, who play at Colorado on Tuesday and finish at home against San Jose on Thursday, hold the tiebreaker with the Golden Knights, which means it's possible a second-place Vegas team would face a third-place Kraken squad in the first round of the playoffs
Possible playoff opponents took a back seat after Monday's milestone win for the Kraken, who finished last in the Pacific with just 60 points in their first year last season
"Everybody knows that's a nice marker for our group," Seattle coach Dave Hakstol said of hitting the 100-point mark. "We want them to be proud of that. That's a helluva of a number. A lot of guys who (went) through the year last year, to be here a year later, they need to take a lot of credit for that.
"That being said, the group took it in stride," Hakstol continued. "We've got two more games to go here in the regular season, and we've got the opportunity to get ready for the first round of the playoffs."
Vegas will be well rested for Tuesday night's contest; the Kraken will play the second game of a back-to-back. The Golden Knights, who played the fewest back-to-backs (seven) in the NHL this season, have been off since losing at Dallas, 2-1, in a shootout on Saturday afternoon
Vegas coach Bruce Cassidy said leading scorer Jack Eichel (undisclosed injury) and defenseman Shea Theodore (undisclosed) will miss Tuesday's contest. So will defenseman Zach Whitecloud (lower body,) who had to be helped off the ice in the loss to the Stars.
The good news is that captain Mark Stone, out three months after having his second back surgery in a year, was back on the ice skating at Monday's practice in a non-contact jersey.
"A good sign," Cassidy said of Stone's return. "He looked good. This is his next phase of return to play, his recovery, get integrated with the team. Again, I don't know how long that has to be. But step one. We'll see how he responds to it tomorrow. It's just good to have him around."
Cassidy had no timetable for Stone's return.
"I don't know if we can expect to have him back," Cassidy said. "The fact that he's had no setbacks again and continuing on to the next phase is a good sign."
--Field Level Media