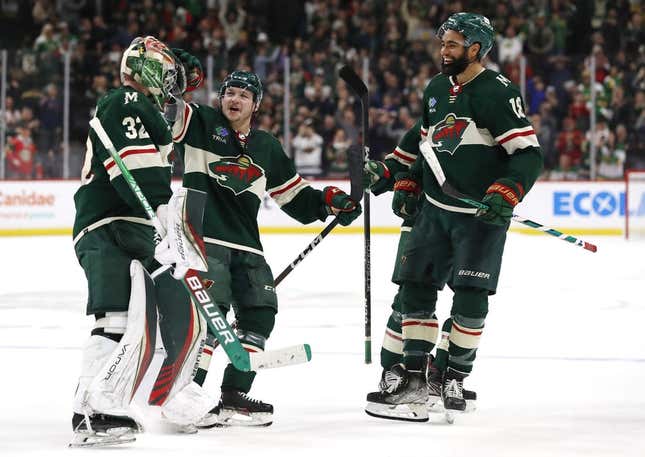 After closing to within one point of Central Division-leading Dallas with a 2-1 shootout victory over the New York Islanders on Tuesday, the Minnesota Wild now play six of their next seven games on the road beginning on Thursday against the rebuilding Vancouver Canucks.
The Wild have crept up on the Stars thanks to a 7-1-2 run during which they've outscored their opponents by just three goals, 19-16. Nine of their last 10 games have been decided by one goal, and six have gone into overtime and/or a shootout.
"I think the last couple of weeks we've really found something with the way we're going to win hockey games and we've stuck with it," veteran Wild defenseman Alex Goligoski said. "Everyone's really committed to it in the locker room. We're getting some bounces now. Great goaltending. Everyone's playing a committed defensive game."
Tuesday's come-from-behind win over the Islanders, which featured Ryan Reaves' first goal in a Wild uniform to tie it, saw goaltender Filip Gustavsson make a career-high 39 saves and also stop all three shootout attempts. Frederick Gaudreau scored the deciding goal to start the third round in the shootout, his NHL-leading sixth shootout goal in 10 attempts.
"The goaltenders have been real good but our defensive game has been really good," Minnesota coach Dean Evason said. "That's something that when you're not scoring, which we haven't at the pace we did last year, then you have to keep the puck out of the net. Our group has really bought into and recognize who we are and how we have to play to have success and that's defense first, wait for our opportunities."
Evason is hoping the addition of veteran forward Marcus Johansson, obtained for a 2024 third-round pick in a trade with Washington on Tuesday, will add some punch to his team's stagnant offense.
Johansson, who had 13 goals and 15 assists in 60 games with the Capitals this season, will play on the second line in Thursday's contest. He had six goals and eight assists in 36 games with Minnesota during the 2020-21 season.
"He's going to play with (Joel) Eriksson Ek and (Matt) Boldy," Evason said. "We'll shift around the other lines as we see fit. He's excited obviously to be here. It's nice to have a guy that's been here. He's comfortable. He knows us as a staff. He knows our systems. ... I think it feels good for him to know a lot of the guys as well."
Vancouver, which is 19 points out of the final wild-card spot in the Western Conference and recently traded away center Bo Horvat and defenseman Luke Schenn during part of its rebuild, is opening a six-game homestand. The bad news? The Canucks are just 11-16-1 at Rogers Arena this season.
Vancouver comes in off a 5-4 overtime victory at Dallas on Monday. Anthony Beauvillier, part of the return package for Horvat, scored twice. Andrei Kuzmenko scored the game-winner 48 seconds into overtime and Thatcher Demko, playing for the first time since suffering a groin injury in a Dec. 1 game against Florida, made 34 saves.
Demko showed little rust despite missing 35 games. He faced four breakaways in the first period alone and kept the Canucks in the game in the second period when Dallas had four power-plays and outshot Vancouver 20-3.
"It took everything I've learned over my entire career -- both mentally and physically -- to kind of get ready for this one," Demko said. "It feels great getting the job done and great to be back with the guys. Hopefully, I can keep building on my game."
--Field Level Media