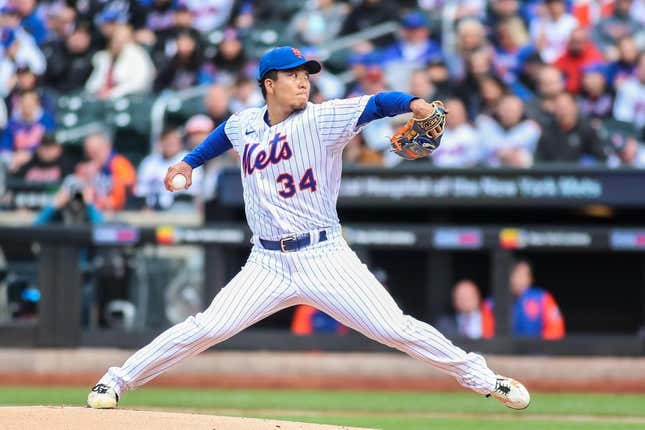 Kodai Senga introduces his already-fabled "ghost forkball" pitch to America's West Coast when the New York Mets open a three-game interleague series against the Oakland Athletics on Friday night
Senga (2-0, 1.59 ERA) has been brilliant in his first two Major League Baseball starts after the Mets imported him from Japan in the offseason. In nearly identical performances, the 30-year-old limited the Miami Marlins to one run and three hits in 5 1/3 innings on the road in his MLB debut on April 2, then held them to one run and three hits again in six innings in his first home game last Saturday
The right-hander has struck out 14 and walked six in his 11 1/3 innings while leading the Mets to 5-1 and 5-2 wins
According to FanGraphs, which labels the pitch a splitter, Senga has thrown his signature "ghost fork" 42 times this season and it's been put into play just twice, resulting in one out and one single. Twelve of his 14 strikeouts have ended with the pitch.
Senga admitted after his second start that he anticipates hitters soon will come up with a game plan for his nearly unhittable pitch: Let it go.
"Being a pitcher that's known for a single pitch, I think it's very important to mix in the pitches evenly," he said of a fastball, slider and cutter. "As the season goes on, I think hitters are going to get more used to it, and they're going to try to not swing at it."
Senga is scheduled to pitch twice on the Mets' 10-game trip that continues next week against the Los Angeles Dodgers and San Francisco Giants. Despite Senga's win, New York went just 3-4 on a season-opening trip to Miami and Milwaukee
This year also marks the 50th anniversary of the Mets' and A's 1973 World Series matchup, which Oakland won in seven games as part of its 1972-74 three-peat
The Mets have returned to Oakland for just three series in the 50 years, going 2-3 before taking two of three from the A's last September behind a 26-run weekend led by Pete Alonso's two home runs, Eduardo Escobar's grand slam and Mark Canha five hits -- including two doubles -- in his homecoming against his former team
The Mets had Thursday off following a 5-2 home win over the San Diego Padres on Wednesday, while the A's were finishing off a seven-game trip with an 8-7, walk-off loss at Baltimore
The A's lost six of seven to the Tampa Bay Rays and Orioles, but scored eight, eight and seven runs in the last three games in Baltimore thanks to a break-out performance by newcomer Brent Rooker.
The outfielder belted a three-run homer in each of the last two games, added a solo shot Thursday, and finished the series 6-for-12 with nine RBIs.
"Rook is really seeing the ball well," A's manager Mark Kotsay gushed after Thursday's game. "The confidence is there. He's seeing the ball well and he's doing damage."
If the A's are to get a six-game homestand off to a triumphant start, they'll need a turnaround performance from right-hander James Kaprielian (0-1, 11.17), who has been bombed in each of his first two starts.
The 29-year-old started a 12-11 home loss to the Cleveland Guardians on April 3, allowing five runs and seven hits in five innings, then picked up the loss after serving up seven runs and seven hits in 4 2/3 innings in an 11-0 drubbing at the hands of the Rays last Sunday.
Kaprielian has never faced the Mets in his career
--Field Level Media