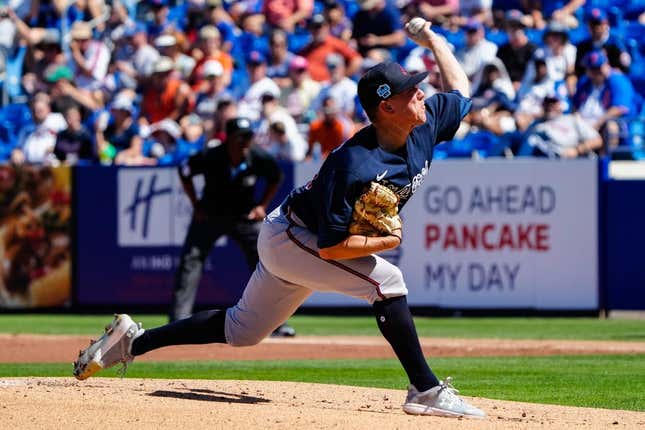 The Atlanta Braves will recall left-hander Kolby Allard from Triple-A Gwinnett and send him to the mound on Wednesday in an effort to sweep the visiting Minnesota Twins
Is Texas or Florida State a bigger national title contender? | Agree to Disagree
The Braves took the first two games of the series, and they have won four straight and 12 of their last 13. The Twins have dropped three of their past four and are 2-3 on their current nine-game road trip
Allard will be opposed by Minnesota's Kenta Maeda (1-4, 6.86 ERA) as the Braves go for their eighth sweep of the season
Allard has missed the entire season with a right oblique strain sustained in spring training. The Braves' 2015 first-round pick was traded to Texas in July 2019, then reacquired from the Rangers in November. Over the past two weeks, Allard has made two rehab starts for Gwinnett, posting a 2.70 ERA in 6 2/3 combined innings
"He's ready to go and we needed a starter," Atlanta manager Brian Snitker said. "We'll watch him. We need him to get it off the ground. It's just about him making the start."
Maeda was victorious in his latest start on Friday as he returned from a two-month stint on the injured list. He pitched five scoreless innings in a 4-1 win over the Detroit Tigers, allowing three hits and two walks while striking out eight.
It was his first major league win since Aug. 14, 2021, against the Tampa Bay Rays. Maeda sat out last year after Tommy John surgery, returned to go 0-4 in April, then missed 51 games due to a right triceps strain.
"It was awesome to come back and get a win for my teammates," Maeda said. "I had made some adjustments during minor league rehab, and it felt good."
Twins acting manager Jayce Tingler came out of the dugout to remove Maeda with two outs in the fifth, but he was talked out of it and allowed the veteran right-hander to stay in the game
"I used what I learned in English class and said, 'No, no, no,'" Maeda said. "I told him I wanted one more batter."
Maeda has faced the Braves three times in his career, going 2-0 with a 2.00 ERA, seven walks and 20 strikeouts in 18 innings. His latest outing against Atlanta came on Aug. 16, 2019, while pitching for the Los Angeles Dodgers; he received a no-decision
Maeda will be facing an Atlanta offense that has been the league's best in June, hitting 54 homers -- two shy of the franchise record for any month, set in June 2019. The Braves upped their major-league-leading home run total to 146 by hitting five on Tuesday
Ronald Acuna Jr. hit two homers and Austin Riley, Sean Murphy and Michael Harris II all went deep for Atlanta. It was the seventh time this season that the Braves hit five home runs in a game
"We're going out to have fun every game," Acuna said. "We're trying to put together good at-bats and make good contact, and we were able to do that tonight."
Acuna hit the first pitch he saw on Tuesday for his 29th career leadoff homer. It was the 12th time he had hit a leadoff homer on the first pitch. He hit another solo shot in the second inning. Acuna has 19 home runs and a National League-leading 35 stolen bases in 79 games.
"I always prepare for that first pitch of the game," Acuna said, "and today I was able to connect on it."
--Field Level Media