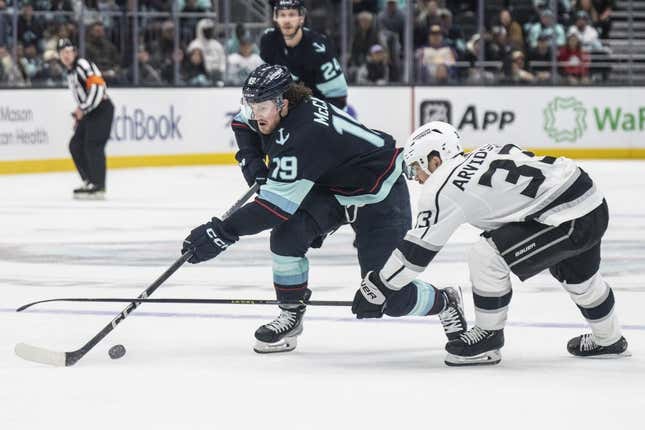 The Seattle Kraken can move a step closer toward their first playoff berth on Tuesday night when they travel to Vancouver to face the Canucks
Bass' ERA stinks, but not compared to who he is off the mound | Worst of the Week Countdown
Seattle (42-26-8, 92 points) increased its lead for the first wild-card spot in the Western Conference to three points over Winnipeg and five points over Calgary with an 8-1 victory Monday night over Arizona in the front end of a back-to-back.
The Kraken, who are in their second NHL season, have six games remaining compared with five for the Jets and Flames
Monday's win marked the fourth time this season that Seattle scored eight goals in a game. In addition, they scored nine in a 9-8 overtime victory at Los Angeles on Nov. 29.
"Every two points is big," Seattle coach Dave Hakstol told NHL.com. "We talk about it all the time. You don't look too far back and you don't look too far forward. You just worry about working and doing what you have to do to get two points, and the score doesn't matter."
Jared McCann, playing in his 500th NHL game, had two goals and Philipp Grubauer made 20 saves as the Kraken handed the Coyotes their eighth straight loss (0-6-2) on Monday
McCann's first goal was shorthanded. His second goal, his team-leading 37th, came near the end of the second period to make the score 4-1 and featured an assist from Grubauer. The Kraken added four goals in the third period
"I think we did a good job of keeping our foot on the gas and closing it out," said defenseman Carson Soucy, who had a goal and an assist. "When it was tight there for a bit, we did a good job of focusing on what we needed to do to just kind of wear them down."
Vancouver (34-35-7, 75 points) was eliminated from playoff contention Sunday, when they lost 4-1 to Los Angeles, the third setback in a row (0-1-2) for the Canucks
Afterward, Vancouver center J.T. Miller called out his team's lack of intensity and toughness in the contest.
"We didn't really compete that hard to outplay that team," Miller said. "It wasn't going to come easy and we had some looks (offensively). But it just feels like it's a little too soft right now. It doesn't feel like we're that hard to play against sometimes.
"I don't know for some reason why we feel like that's OK as a group. I know I'm being a little harsh right now, but I don't like not playing the right way and not being assertive. We have a million reasons to be playing hard right now. It just seems like other teams are having their way with us a little bit."
Goaltender Thatcher Demko said it's important that the Canucks finish strong to build momentum heading into next season
"We're trying to make sure these last six games count for something," he said. "We've been trying to make this stretch, the last month or so, count for something in the big picture."
Tuesday will mark the final matchup of four meetings between the border rivals this season. Vancouver won the first two, 5-4 on Oct. 27 at Seattle and 6-5 in a shootout on Dec. 22 in Vancouver, while the Kraken won the most recent meeting, 6-1 on Jan. 25 in Seattle
--Field Level Media