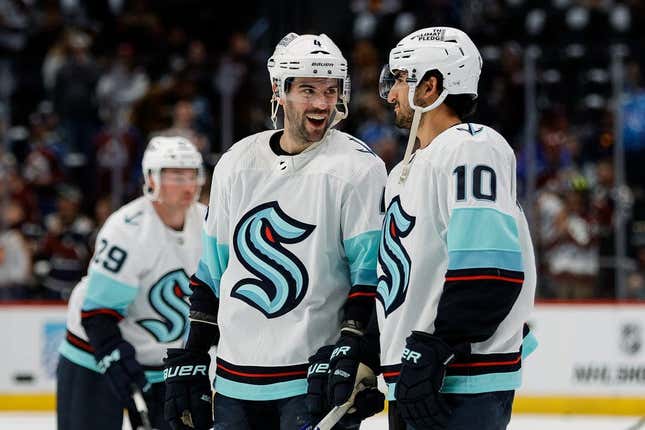 The Seattle Kraken, making their first playoff appearance, are one victory away from eliminating the defending Stanley Cup champions
Bass' ERA stinks, but not compared to who he is off the mound | Worst of the Week Countdown
The Kraken can accomplish that feat Friday night at home, where they'll play the Colorado Avalanche in Game 6 of their first-round Western Conference playoff series
Seattle took a 3-2 lead in the best-of-seven series with a 3-2 victory Wednesday in Denver.
"We know that the fourth (victory) is going to be the toughest, and they're going to bring everything they have," Kraken defenseman Justin Schultz said. "I think we've done a pretty good job all year of just focusing on the task at hand, not listening to any outside noise.
The Avalanche, who won the Central Division title with a 51-24-7 record (109 points), admitted they're feeling some pressure
"I've said it a million times," Colorado coach Jared Bednar said, "we're putting the most pressure on ourselves out of anybody, right? 'Cause we want to win and we want to get rewarded for the hard work we put in for the season, They're a second-year team. They got in the playoffs. They got a good team. They're playing loose. They're confident. Obviously, the guys in the room, in their room, are like, 'Well, yeah, we want to win,' but expectations are on our team.
"But that's nothing new to our group, either. We've dealt with that over the last three or four years, last year especially, and they got the job done. I believe in our team to be able to deal with the expectations."
The Avalanche will get Cale Makar, last year's Conn Smythe Award winner as the playoff MVP, back Friday after he received a suspension because of a late hit along the boards on Seattle's Jared McCann in Game 4. But they might be without fellow defenseman Josh Manson, who left Wednesday's game in the second period after reaggravating a lower-body injury
Left winger McCann, who led the Kraken with 40 goals in the regular season, didn't make the trip to Denver for Wednesday's game and doesn't appear likely to return Friday
"He just sent a quick text (Wednesday) night congratulating us," Schultz said. "Obviously, we miss him, and it's probably tough for him to be watching but, hopefully, he heals quickly and we get him back quick. We miss 'Canner' a lot, but guys are doing a really good job of stepping up right now."
Tye Kartye, the American Hockey League's rookie of the year, scored in his NHL debut for the Kraken and goaltender Philipp Grubauer made 26 saves against his former team
"Jared's a big part of our team," Kraken coach Dave Hakstol said. "We did what we've done in the past. Somebody (Kartye) stepped in and filled a hole, filled a big hole.
Colorado's Nathan MacKinnon scored his third goal of the series Wednesday, but it wasn't enough. The Kraken have scored the opening goal in each of the five games
"It's tough, yeah. We didn't have our A-game or our B-game (Wednesday), I don't know why," MacKinnon said. "We just got to find a way to bring Game 7 back here. I think we're just shooting ourselves in the foot. I know it's cliche to say, but I think there's plays to be made out there and we're just not making them for whatever reason right now. It's not a matter of work or competitiveness or anything like that."
--Field Level Media