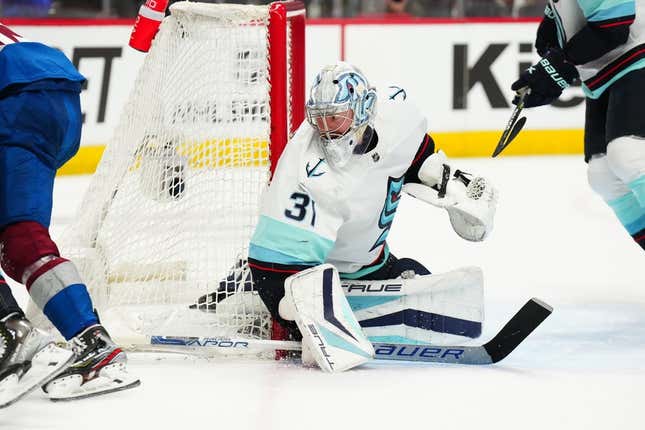 The Colorado Avalanche spent the last two weeks of the regular season battling for the Central Division title and the No. 2 seed in the Western Conference
Air Jordans are more American than McDonald's French fries | Deon Cole's Ultimate Sports Fantasy
It paid off but they fell flat in Game 1 of their first-round series against the Seattle Kraken. Seattle, the No. 7 seed, played an efficient game on Tuesday night and came away with a 3-1 win and a 1-0 series lead
The Kraken will try to sweep the road set in Game 2 on Thursday night in Denver
Seattle, in just its second year of existence and playing in the postseason for the first time, looked like the more poised team. The Kraken avoided costly turnovers and took advantage of their opportunities. They weren't given much of a chance to knock off Colorado but never trailed Tuesday night
"We believe in the team," said center Alex Wennberg, who had a goal and an assist in Game 1. "We can play really, really hard and right now, you can see the team effort right here, everyone working with each other, and the goaltender is doing great. I mean this is something that we can do every day."
Seattle also got a solid game from former Avalanche goaltender Philipp Grubauer, who had 34 saves. Grubauer wasn't tested much, and that is due, in part, to how the Kraken were able to minimize the chances of Colorado's top line
"We were happy about this performance, but we got to do it again and do it again," Wennberg said. "It's a good start and good feeling."
The Avalanche did not trail in a series on the way to the 2022 title, so they are in an unusual position for this group. Cale Makar returned to lead the defensive corps, but veterans Andrew Cogliano, Jack Johnson and Darren Helm were scratched with injuries
That allowed center Ben Meyers to make his playoff debut, but because Colorado trailed most of Game 1, the top lines played heavy minutes.
That could change Thursday. Avalanche coach Jared Bednar said after the team's optional practice on Wednesday that they're hoping Cogliano, Helm and Johnson will be available
Even if Colorado gets an infusion of experience into the lineup, it won't make a difference if the intensity isn't ratcheted up. The Avalanche played uninspired at times and looked as if they were playing a regular-season game, not their first game of the postseason
"They had a better start than us. They put us on our heels and we weren't quite executing to the standard we hold ourselves to," winger Logan O'Connor said. "We're expecting a better performance from us (Thursday)."
Nathan MacKinnon, who led the team in points in the regular season and had the primary assist on its only goal on Tuesday, agreed.
"We weren't sharp enough mentally. Physically we were there, playing hard," MacKinnon said. "We shot ourselves in the foot a lot, but that was just the night. So, our focus is just to move on and try to get a win Thursday."
--Field Level Media