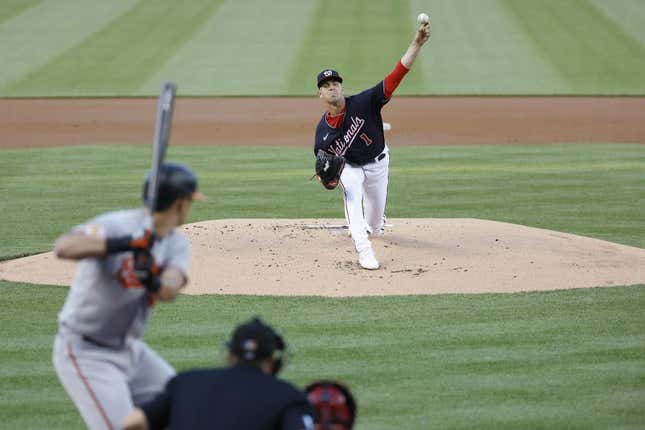 Kyle Bradish pitched six shutout innings in his return to action and Adam Frazier smacked a two-run homer shortly after entering the game as a reserve to propel the visiting Baltimore Orioles to a 4-0 victory against the Washington Nationals on Wednesday night
Bass' ERA stinks, but not compared to who he is off the mound | Worst of the Week Countdown
Bryan Baker, Cionel Perez, Yennier Cano and Mike Baumann followed Bradish on the combined six-hitter.
The Orioles, who were held to four hits, won both games in the two-game set as the Nationals failed to score a run on back-to-back nights. Tuesday's score was 1-0
Bradish (1-0), whose only other appearance this year came when he left with an injury in the second inning April 3 at Texas, gave up five hits and one walk with six strikeouts.
The Nationals threatened, putting runners on the corners with two outs in the eighth, but the chance faded when Luis Garcia grounded out to Cano. Washington left nine runners on base in the game
Bradish took a comebacker off his right foot in his season debut, resulting in a stint on the injured list. He seemed in fine form upon his return.
Nationals starter MacKenzie Gore (2-1) took the loss, giving up three runs on three hits in six innings with seven strikeouts. He walked four
Keibert Ruiz went 3-for-4 for Washington as the game's only player with more than one hit. Teammate Joey Meneses had a one-out double in the sixth and reached third on a groundout before Bradish escaped.
The Orioles got on the board on Adley Rutschman's bases-loaded walk with one out in the third inning
Frazier's two-run homer in the fourth stretched the advantage. It was his second homer of the season.
Frazier was a substitute early in the game when shortstop Jorge Mateo exited with a hip injury.
Gunnar Henderson's two-out single in the ninth drove in for the final run. Ramon Urias reached on a two-out error and moved up on a wild pitch and a walk to Frazier before Henderson delivered his first RBI since April 7.
--Field Level Media