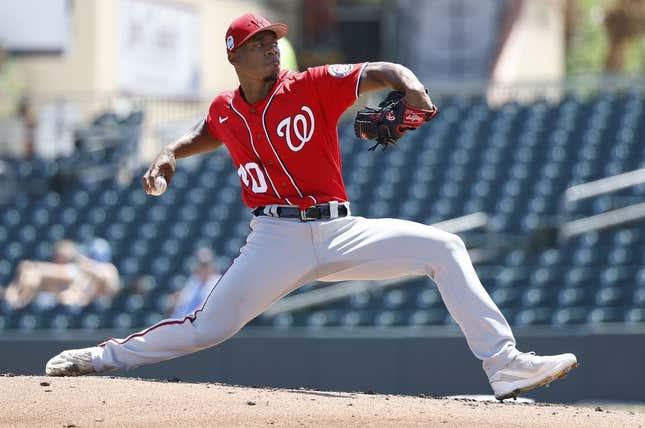 The weather in Colorado has always added chaos to the Colorado Rockies' April schedule. Snow storms are common, more so than rain, and playing in swirling flakes is not unusual
Chris Paul should ride the bench next season | Keep it a Buck(et)
However, Mother Nature did the Rockies a favor by bringing in the cold and snow while the team was opening the 2023 campaign on the road. Several inches of snow fell Tuesday and temperatures were in the teens, but Colorado was in Southern California playing the Los Angeles Dodgers
The wintry weather is giving way to more traditional spring conditions, which is perfect for the Rockies, who will play their home opener against the Washington Nationals on Thursday
Colorado lefty Kyle Freeland (1-0, 0.00 ERA) will face Washington right-hander Josiah Gray (0-1, 9.00) in the first of four games between the teams.
Although it will only be Freeland's second start of the season, he has already faced high-stress innings this year. Freeland pitched in relief for Team USA in last month's World Baseball Classic, tossing six innings and giving up two runs.
One of his appearances came in the championship game against Japan, and he fared well. He struck out tournament MVP Shohei Ohtani and tossed three innings of one-run ball in the United States' loss.
That is behind him and he is focused on getting back to his 2018 form, when he finished in the top four in the NL Cy Young Award voting. Freeland got off to a good start this year by throwing six shutout innings at San Diego on Friday, and he will try to build on that against the Nationals, who will be playing their first road game of the season
Freeland is 4-2 with a 2.70 ERA in seven career starts against Washington.
Freeland's win against the Padres seems like an outlier so far. Colorado pitchers are walking batters and getting their pitch count up, a dangerous thing playing in Denver.
"We've got to get over the efficiency hurdle," Rockies manager Bud Black said
Washington is having a different issue -- a lack of power and runs to start the season. The Nationals have scored two or fewer runs in four games this season and have just one win after being swept by the Tampa Bay Rays
The Nationals have hit just two home runs so far, the lowest total in the majors, and they didn't break out until scoring six in a loss to the Rays on Tuesday night. They didn't homer in that game but had 16 hits -- 13 of them singles -- and continued that power outage in a 7-2 loss to Tampa Bay on Wednesday
"We just take good at-bats, pass the baton onto the next guy, pick each other up," Washington left fielder Alex Call said. "Everybody's got their own plan and own approach, and I think we've been doing a good job studying pitchers. I felt like our at-bats have been pretty good. We've just got to stay with the process and hope it's all going to work out."
Playing in hitter-friendly Colorado could help the Nationals and Gray, who got the win in his only start at Denver, on Sept. 27, 2021. He allowed three runs in 5 1/3 innings. Overall against the Rockies, he is 2-0 with a 5.03 ERA in four career starts
--Field Level Media