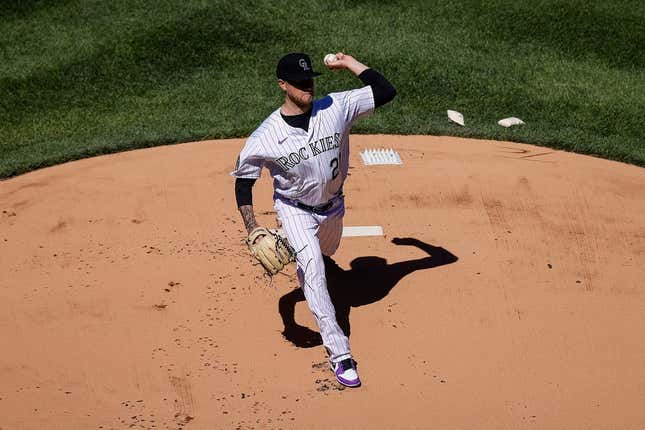 Kyle Freeland tossed 6 2/3 shutout innings, Elehuris Montero had three hits, and the Colorado Rockies beat the Washington Nationals 1-0 in their home opener in Denver on Thursday afternoon
Marry a Taylor Heinicke, not a Tom Brady | Bert Kreischer on Love
Kris Bryant extended his hitting streak to seven games with an RBI single and a double for Colorado, which took the first of the four-game series.
Freeland (2-0) scattered four hits and has yet to yield a run this season in 12 2/3 innings. Pierce Johnson got the final three outs for his second save of the season.
Washington's CJ Abrams had two hits and Josiah Gray (0-2) allowed one run on eight hits and struck out six in six innings.
Coors Field is a hitter's park but it was the pitchers who were in control from the start and benefitted from good defense. Freeland gave up a single to Lane Thomas on the first pitch of the game and one later it looked like the Nationals would take the lead
Jeimer Candelario sent a shot to the wall in left that Jurickson Profar made a leaping catch while avoiding a fan's glove for the second out.
Colorado threatened in the third when Bryant reached on a one-out double and went to third on a groundout but was stranded there.
The Rockies finally broke through in the fifth. Ezekiel Tovar led off with a double when Thomas lost his fly ball in the sun in right field, and after a pop out, Bryant singled to left to bring home Tovar
Colorado threatened again in the sixth inning. Ryan McMahon led off with an infield single, moved to second on a groundout and over to third on Montero's third hit of the day. Gray was able to get a flyout and groundout to keep it a one-run game.
The Nationals, who have struggled to score runs this season, didn't have an extra-base hit and have just two home runs this season. The Nationals didn't have more than one runner on base at a time until the eighth inning when they had runners on the corners with two outs but Joey Meneses flew out to end the inning against Justin Lawrence
--Field Level Media