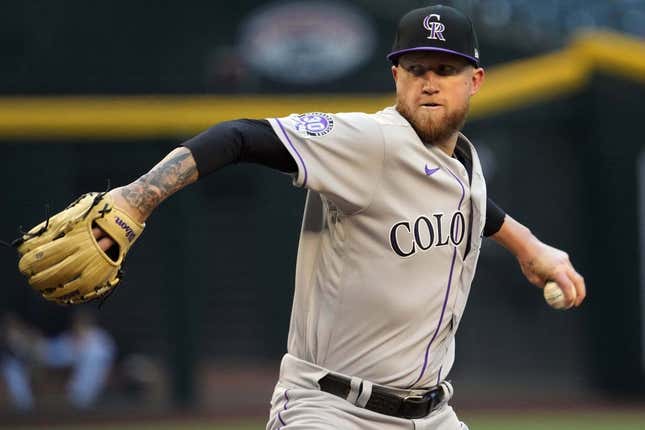 The lineup and rotation have been upended by injuries, but the Los Angeles Dodgers are starting to see some players getting healthy
How running an NFL team is like running a restaurant | Chef Emeril Lagasse
Max Muncy returned to action Tuesday night after missing 11 games with a left hamstring strain, and Julio Urias is projected to come back Saturday.
The lack of healthy arms for Los Angeles has forced manager Dave Roberts to be flexible, which is why he is going with a bullpen game on Wednesday night against the Colorado Rockies and saving a starter's arm
Colorado counters with lefty Kyle Freeland (4-8, 4.54 ERA) in the second of a three-game series.
Muncy was 0-for-3 with a walk and a run in the Dodgers' 5-0 win Tuesday night. He likely will sit out Wednesday night, giving rookie Miguel Vargas a chance to work out of his slump. Vargas is hitting just .201 this season and .150 in June as he tries to find some momentum
He was out of the lineup Tuesday for "more of a mental break," Roberts said.
"I had a great conversation with him," Roberts said. "Just wanted to ease his mind, continue to let him know how much the confidence hasn't wavered. "For me, it's just going back to what he does really well, and that's to get hits. I think things will start to turn."
Roberts is pleased that Vargas' struggles at the plate haven't hurt his play in the field.
"Once you start to struggle, you start to press a little bit, you start to try to get things back in one game, one at-bat and then it just snowballs," Roberts said. "It's not just young players; veteran players, it happens to as well, but it's certainly more magnified for a younger player."
Freeland is slated to make his 22nd career start versus Los Angeles, his most against any team, and is 5-9 with an ERA of 4.38.
He hasn't won a start since May 14 against Philadelphia but has pitched well to win in three of four outings in June.
He gave up four runs -- three earned -- in a win over the Los Angeles Angels on Friday night.
Freeland, a Denver native, hasn't been able over the past several seasons to recapture the magic of 2018, when he finished fourth in the National League Cy Young Award voting in 2018 when he won a career-high 17 games. He's a combined 25-41 since then.
More has been put on him this season with the rotation losing key arms to injuries, and it's a responsibility he wants. The Rockies have lost 10 of their past 12 games
"I want to be that stopper for our team, that guy that gets us going at a new pace," Freeland said.
He provided that in his first two starts of the seasons when he tossed 12 2/3 shutout innings, and he was strong through his first three outings. He has battled inconsistency since, including three games in which he gave up seven or more runs.
--Field Level Media