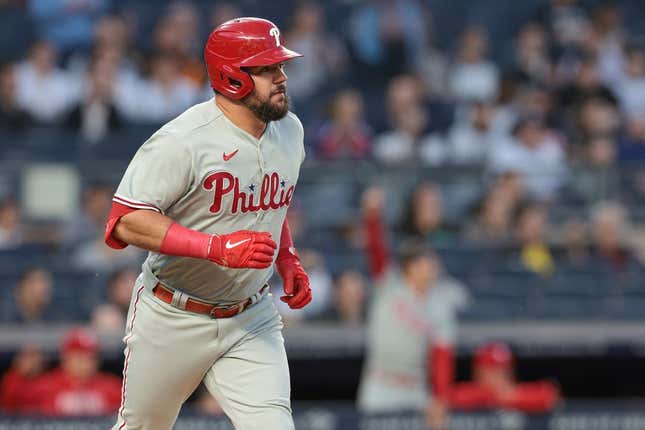 Kyle Schwarber hit his 200th career homer two batters in and the visiting Philadelphia Phillies stopped a season-opening four-game losing streak with a 4-1 victory over the New York Yankees Tuesday night
Does Jimmy Butler have the best NBA Finals origin story? | Agree to Disagree
After being outscored 37-12 in their first four games, the Phillies avoided their first 0-5 start since dropping their first seven games of the 1934 season
Schwarber helped Philadelphia end its early frustration on the game's second pitch when he hammered a fastball for his 415-foot drive to right field off Domingo German (0-1).
Schwarber became the 364th player in baseball history to reach 200 homers after entering Tuesday with one hit in his first 17 at-bats.
Brandon Marsh also homered in the third a night after making two key misplays. He reached New York's bullpen in center field after being unable to make a shoestring catch on DJ LeMahieu's leadoff triple and overrunning third base for the third out of the fifth in Monday's 8-1 loss.
Trea Turner and Schwarber added RBI singles in the fifth off Michael King, who was making his second appearance since returning from a broken elbow.
The Yankees' lone run came on LeMahieu's solo home run with one out in the ninth
Philadelphia starter Matt Strahm pitched four innings and only allowed rookie Anthony Volpe's single in the third. He struck out three and walked one in a 61-pitch outing.
Andrew Bellatti (1-0) fanned two in the fifth. Jose Alvarado struck out the side in the sixth on 12 pitches and ended the inning by whiffing Aaron Judge.
Connor Brogdon pitched two innings and got help in the seventh when right fielder Nick Castellanos doubled Gleyber Torres off first.
Craig Kimbrel allowed LeMahieu's shot to right center before retiring Josh Donaldson with two on to end it.
German, who struggled in spring training, allowed four runs on four hits in 4 2/3 innings. He struck out eight without a walk but was replaced by King after allowing a single to Garrett Stubbs that gave the Phillies runners at first and second. Stubbs singled after Volpe was unable to start a double play on Marsh when the ball popped out of his glove and he settled for the force at second
--Field Level Media