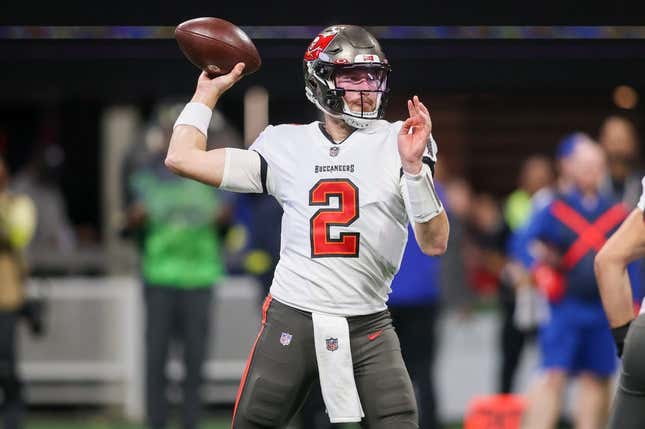 Could Kyle Trask win the Tampa Bay Buccaneers' starting quarterback job
Trask said the team let him know that role is up for grabs.
"I've just been told it's an open competition," Trask told reporters Monday, "but at the end of the day I know that the team's going to do what they have to do to put whoever on the field that's going to allow our team to be the most successful."
Bass' ERA stinks, but not compared to who he is off the mound | Worst of the Week Countdown
With Tom Brady retired for good this time, the Buccaneers signed Baker Mayfield in March after he split 2022 between the Carolina Panthers and Los Angeles Rams to mixed results
The only other quarterback currently on Tampa Bay's roster is Trask, the franchise's second-round pick in 2021. Trask saw some game time in the 2022 regular-season finale, completing 3 of 9 passes for 23 yards.
It remains to be seen if the Buccaneers will add another quarterback to the roster, via next week's draft or elsewhere
"This is a good opportunity for me, and a great opportunity for me to compete with someone like Baker (Mayfield), who's definitely proven himself in this league," Trask said. "... For me, I always try to be as consistent as I can. I'm always trying to build my routine, square it away as tight as I can. So, it's just very important for me to really lock that in at a time like now and try to make myself as productive as possible to help this team in the end and hopefully help the overall success of this team."
Trask finished fourth in Heisman Trophy voting in 2020 after throwing for 4,283 yards, 43 touchdowns and eight interceptions for Florida with a 68.9 percent completion rate. He was the sixth quarterback to be drafted in 2021 after five went in the first round.
Trask said staying consistent in his approach is the key for him to have a shot at winning the starting gig.
"I guarantee you the job won't be won if I'm thinking about outside things and different types of narratives. That's not going to translate to success on the football field," he said. "I need to narrow my focus and do my best to put the team in the most successful position possible. And at the end of the day, just have fun and lift the ones around you, because I think when you do that it ties the whole thing together and everybody plays better."
--Field Level Media