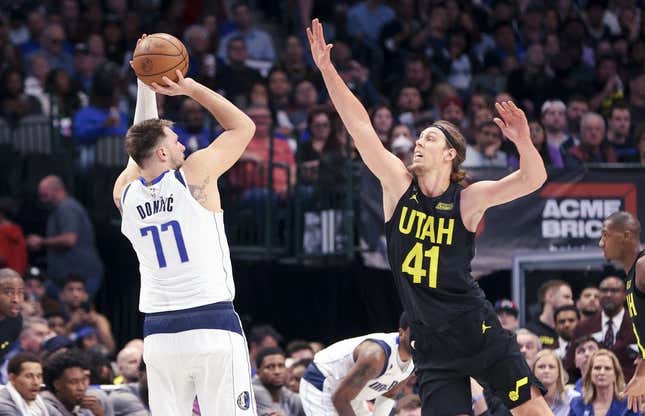 Kyrie Irving scored 17 of his 33 points in the fourth quarter to help the Dallas Mavericks withstand a challenge by the short-handed Utah Jazz in a 120-116 home victory Tuesday night.
Is Texas or Florida State a bigger national title contender? | Agree to Disagree
Luka Doncic added 29 points, 10 rebounds and six assists and Tim Hardaway Jr. fired in seven 3-pointers en route to 24 points as Dallas closed out a six-game homestand with a victory.
Lauri Markkanen led the Jazz with 33 points of his own and Talen Horton-Tucker added 21 in a starting role. Kris Dunn contributed 11 points, eight rebounds and five assists off the bench in Utah's fourth straight loss.
The Jazz were missing Jordan Clarkson (sprained finger), Walker Kessler (non-Covid illness) and Collin Sexton (hamstring strain).
Despite playing without those three starters, the Jazz overcame a 14-point deficit and went toe-to-toe with the Mavericks for most of the fourth quarter before suffering their third setback to Dallas in four games this season.
Utah and Dallas battled back and forth in the final period, exchanging the lead 12 times until Irving put Dallas up for good.
Irving, who had eight assists and six rebounds in the game, first hit two free throws with 2:57 left to give the Mavericks a 109-108 lead, then drained a 3-pointer to make it 112-108 just 24 seconds later. Justin Holiday capped the pivotal 8-0 run for Dallas with a shot beyond the arc.
Kelly Olynyk hit three free throws for the Jazz to cut the lead to four, and Horton-Tucker got the Jazz within two with 3.7 seconds left after hitting a bucket and splitting a pair of free throws.
Dallas rebounded the ball after Horton-Tucker purposely missed the second foul shot, and Irving closed out the game with two makes at the charity stripe.
The Mavericks took their largest lead, 51-37, in the second quarter. But the Jazz closed out the half on a 22-8 run to the game at 59-59.
Doncic scored five points in an eight-point spurt for the Mavs, who went up 76-68 in the third quarter. Utah pushed back late in the period to pull within one heading into the fourth quarter.
Rudy Gay hit a step-back jumper early in the fourth quarter to put Utah up 88-87. Irving responded with a jumper, and the seesaw tussle continued for the next eight minutes of action.
--Field Level Media