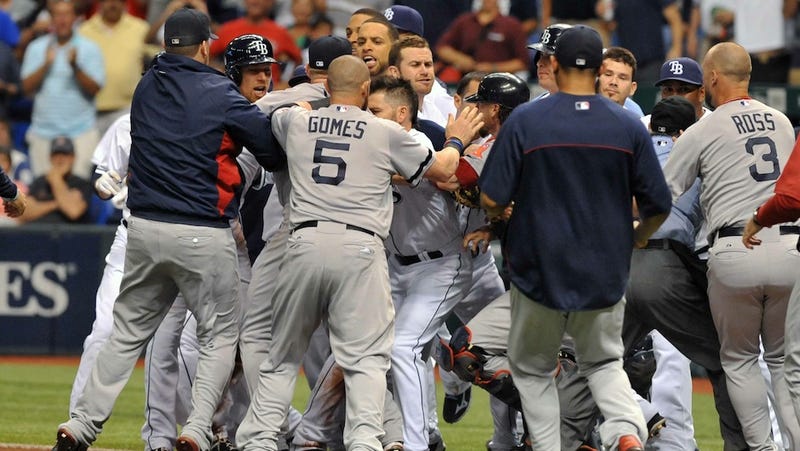 A nationally televised game that saw Tampa Bay overcome a 6-0 deficit, Boston take—and blow—a two-run 10th-inning lead, and a final out that wouldn't come until after midnight, and still all anyone could talk about was John Lackey plunking Matt Joyce. Here's a bold statement: Boston-Tampa Bay is the fiercest AL East rivalry these days.
The Red Sox did finally take this one, thanks to a tiebreaking single from Daniel Nava in the top of the 14th inning. En route, Tampa Bay starter Alex Cobb got knocked around for six runs in the first inning, and each team's closer gave up a pair of runs in a wild 10th.
But the action came in the sixth. Actually, back up: it started much earlier than that. Matt Joyce led off the bottom of the first with a long home run to right. In the second, Joyce just pulled one foul on a 3-0 pitch, dropping his bat on the backswing. Lackey glared at him, and some Rays in the dugout noticed, giving it to Lackey when he walked off the mound at inning's end. "They've got some guys who like to yell," Lackey said.
Joyce came up with two on and none out in the fourth, so no time for retaliation. But in the sixth, Lackey drilled him square in the back. The donnybrook/scrum/fracas/other baseball-only term for a fight without punches was on.
Joyce called it "obvious" and "a bush-league move." Lackey and John Farrell insisted the pitcher was just trying to move Joyce off the plate. But perhaps the harshest words came from Joe Maddon, in his kindly, grandfatherly way—Joe Maddon's not mad, he's just disappointed:
"He intentionally hit him when he did, there's no question in my mind that he did, and the sad part is that I've always considered Lackey a good teammate, but right there he can get one of his own players hurt.

"I really did sense among the group of Red Sox that they were totally not into that moment because they knew it was inappropriate to hit Matt on purpose, and furthermore because one of them can get hurt. So that's being a bad teammate as far as I'm concerned. In the past, he was always a good teammate. That was really a bad moment for him tonight. I've always considered him a friend and I still want to consider him a friend, but when it comes to baseball and us playing them, that was a really inappropriate gesture on his part."
The Red Sox's win extended their division lead over the idle Yankees to two games, and five games on the Rays. The AL East is a four-way dogfight right now, and if the immediacy of the race is lessened by the second wild card, it's heightened by the certainty that every remaining Boston-Tampa Bay game will be bitter and intense and meaningful. Starting with today's doubleheader.