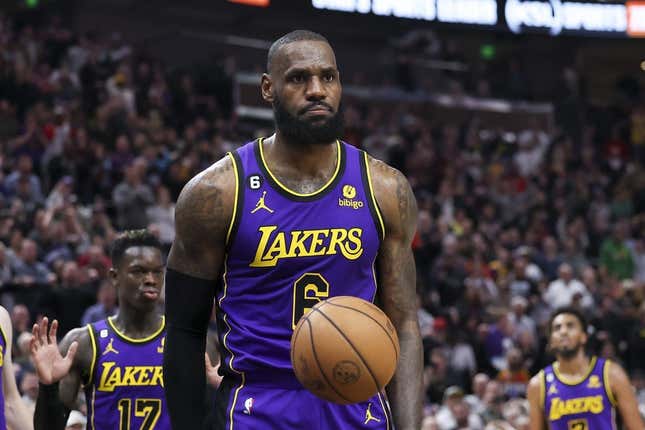 The stakes have rarely been this high when the Los Angeles Lakers and Los Angeles Clippers meet, with Wednesday night's matchup between the teams a legitimate showdown as the regular season nears a close
Known as a rivalry in proximity only, especially from the Lakers' side, Wednesday's game is poised to be remembered regardless of who wins
Both teams enter 41-38 with three regular-season games remaining, although the Clippers technically are in sixth place in the Western Conference, which would give them a guaranteed spot in the first round of the playoffs
The Lakers are in seventh place as the top seed in the play-in tournament
The Clippers, who are the designated home team Wednesday, already have won the season series, going 3-0. Over the past three seasons, the Clippers have not dropped a game to the Lakers, going 10-0 in that stretch
The Lakers forced their way into identical overall records with the Clippers this season on the back of a wild 135-133 overtime road victory over the Utah Jazz on Tuesday. They clinched a spot in the play-in tournament
But it means Lakers veterans LeBron James and Anthony Davis will have little rest heading into Wednesday's big game, if they play at all
"We'll figure it all out," Lakers coach Darvin Ham said, not committing to James, Davis or D'Angelo Russell playing Wednesday. "This time of the year, everybody has something a little going on with their bodies.
James had 37 points in 38 minutes, including the game-winning score with 27 seconds remaining Tuesday. Davis had 21 points and 14 rebounds in 42 minutes.
"I haven't played in a back-to-back in a long time," Davis said. "We'll all get a phone call tomorrow (about playing status) and go from there."
While the Lakers are riding a four-game winning streak and an 11-4 record since March 5, the Clippers have been in flux since Paul George departed with a knee injury on March 21. The team has gone 3-3 since while clinging to a top-six playoff spot
The Clippers are on a two-game skid after a 122-114 road loss to the New Orleans Pelicans on Saturday. That game came a day after a 108-94 defeat at Memphis
Kawhi Leonard scored 40 points with eight rebounds against the Pelicans, while Russell Westbrook had 10 assists.
Westbrook had a rocky ride coming off the bench with the Lakers earlier this season, but his earlier erratic play has been far more measured since he joined the Clippers on Feb. 24. Wednesday will be Westbrook's first game against the Lakers since the midseason divorce
"It's an important game for us collectively, it's probably going to be an important game for them as well, so it's just going to be a big game overall making sure we're ready to go," Westbrook said, according to the Los Angeles Times. "My job is to make sure us in the locker room are locked in and ready to compete."
At focus will be whether Westbrook tries to make a statement during the game.
The Clippers struggled to fit Westbrook into the rotation after he was acquired, losing his first four games. But the former MVP has settled in now with an average of 15.2 points and 7.8 assists with his new team, helping the squad to an 8-5 record since then
--Field Level Media