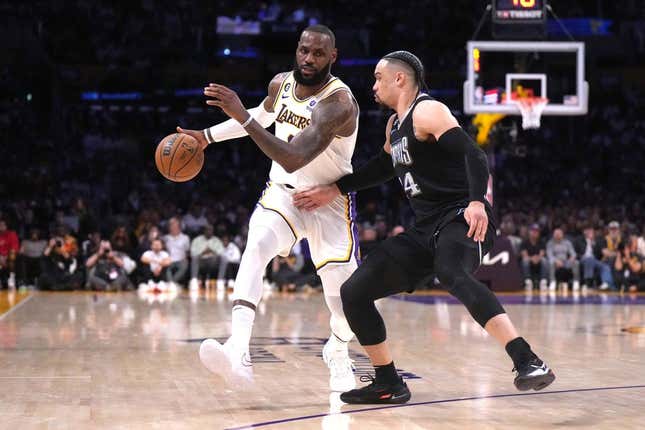 Anthony Davis dominated with 31 points, 17 rebounds and three blocked shots to lead the host Los Angeles Lakers to a solid 111-101 victory over the Memphis Grizzlies in Game 3 of their tense first-round series on Saturday night
Bass' ERA stinks, but not compared to who he is off the mound | Worst of the Week Countdown
LeBron James added 25 points and nine rebounds as the Lakers took a 2-1 lead in the Western Conference matchup. D'Angelo Russell had 17 points and Rui Hachimura scored 16 for Los Angeles, which led by as many as 29 points in the wire-to-wire victory
Ja Morant (hand) was cleared to play less than an hour before tipoff for the Grizzlies and had 45 points, 13 assists and nine rebounds. Desmond Bane added 18 points and Jaren Jackson Jr. scored 13
Game 4 is Monday night at Los Angeles.
Memphis' Dillon Brooks was ejected after drawing a flagrant 2 foul for delivering a blow to the groin area of James 17 seconds into the second half. Brooks had just seven points on 3-of-13 shooting before his departure.
Morant energized Memphis in the fourth quarter by scoring 22 straight Grizzlies' points to pull his club within 106-96 with 2:54 left. Bane ended the Morant run with a 3-pointer that cut the Los Angeles lead to 108-99 with 1:24 remaining
Russell answered with a basket 17 seconds later as the Lakers closed it out
Austin Reaves added 13 points for Los Angeles, which shot 45.6 percent from the field and was 7 of 28 from 3-point range.
The Grizzlies connected on 37.6 percent of their shots, including 13 of 39 from behind the arc. Morant made six treys
Memphis' shooting was colder than the Arctic at the outset as it missed 10 of its first 11 shots and was 3-of-25 in the opening period. Los Angeles capitalized and Russell's three-point play gave the Lakers an 18-2 lead with 6:13 left in the first quarter
The Grizzlies trailed 26-9 after Luke Kennard's tip-in with 2:26 left before Los Angeles capped the outburst with nine straight points. Hachimura's fast-break dunk with 1:11 remaining was the Lakers' final points of the quarter and he drilled a 3-pointer 36 seconds into the second period to make it 38-9
Los Angeles led by 26 with under two minutes left in the half before Memphis scored the final 10 points to trail 53-37.
Davis scored 15 points in the third period and the Lakers led 88-68 entering the final stanza
--Field Level Media