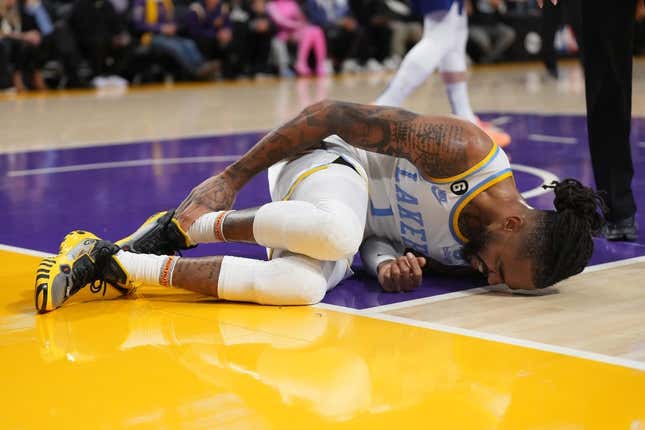 Los Angeles Lakers guard D'Angelo Russell is slated to return to the lineup against the Toronto Raptors on Friday after a six-game absence due to a sprained right ankle.
Is Texas or Florida State a bigger national title contender? | Agree to Disagree
Lakers coach Darvin Ham told reporters on Thursday that Russell is "pretty much a full go," while the team listed him as probable. The game will be Russell's first since being injured on Feb. 23.
Russell has played in just four games for the Lakers since being acquired from the Minnesota Timberwolves at the trade deadline. He indicated he won't be hampered by the ankle against the Raptors.
"My style of play kind of allows me to not overload any injury like that when it comes to the ankle or knee or things like that because I don't play that explosive," Russell said. "So it kind of benefits me in that sense."
Russell's return will send Dennis Schroder back to a reserve role.
Russell is averaging 13.5 points and 5.0 assists since returning for his second tour of duty with Los Angeles. He was the No. 2 overall pick in the 2015 draft and spent two seasons with the Lakers before playing for three teams over the last five-plus seasons.
Russell averaged 17.9 points and 6.2 assists in 54 games with the Timberwolves before the trade. He has career averages of 17.7 points and 5.7 assists in 482 games (418 starts).
Russell's return comes with the Lakers playing without LeBron James (foot) for at least three more weeks. The team also will be without center Mo Bamba for at least four weeks with a left high ankle sprain.
--Field Level Media