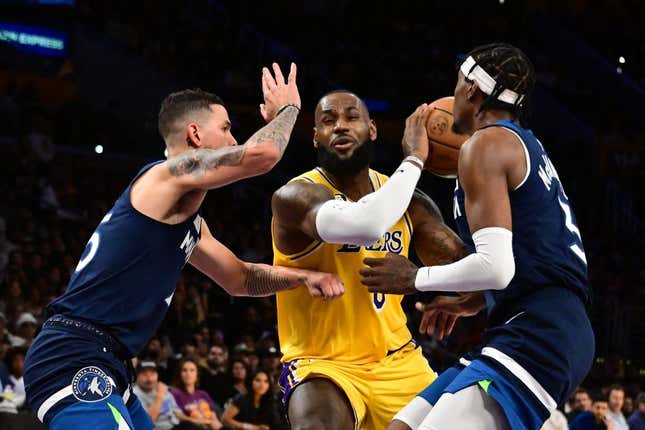 The Los Angeles Lakers finished the regular season surfing a wave of momentum while the Minnesota Timberwolves are engulfed in a punch-driven drama that will leave them without center Rudy Gobert
One of these teams will claim a playoff spot on Tuesday night when the Lakers host the Timberwolves in a Western Conference play-in game
The winner of this contest will be the No. 7 seed in the West and will play the No. 2 Memphis Grizzlies in the first round of the postseason. The loser will play Friday against either the New Orleans Pelicans or Oklahoma City Thunder for the No. 8 seed.
Minnesota (42-40) will be without rim protector Gobert after he was suspended for the game for punching teammate Kyle Anderson in the chest during a 113-108 home victory over the New Orleans Pelicans on Sunday.
Los Angeles (43-39) overcame a dismal 2-10 start and transformed the roster at the trade deadline before catching fire down the stretch with nine wins in its last 11 games.
The Lakers finished seventh in the West, falling a game short of landing a guaranteed playoff spot. But the stellar finish has Los Angeles encouraged about the prospects of a playoff run
"We put ourselves in a position where we can move on," forward LeBron James said. "That's all we asked for, to put ourselves in a position to move on. We obviously had a very, very slow start. ... So, to know where we are today, you can be happy about that but not satisfied."
The Timberwolves have won seven of their past 10 games but their victory in the regular-season finale was overshadowed by Gobert's punch at Anderson during a timeout in the second quarter
The two players had a verbal disagreement during a huddle and the situation quickly grew tense. Anderson said something that irked Gobert and the 7-footer took a step toward him and fired a punch that appeared to hit his chest.
Teammates quickly interjected and Gobert was taken to the locker room and soon sent home. On Monday, the Timberwolves flew to Los Angeles without Gobert and will be trying to beat the Lakers without the three-time Defensive Player of the Year
"It's certainly not something that we condone," Minnesota coach Chris Finch said after Sunday's game. "Veterans can get upset, too. I don't want to be too hard on him, but obviously it's not something we're going to be able to tolerate here."
On Sunday night, Gobert said he was sorry for the incident.
"Emotions got the best of me today. I should not have reacted the way i did regardless of what was said," Gobert said on Twitter. "I wanna apologize to the fans, the organisation and particularly to Kyle, who is someone that i truly love and respect as a teammate."
Gobert was acquired from the Utah Jazz in the offseason for four players and five first-round draft picks, including 2022 pick Walker Kessler, who became an immediate defensive force for Utah.
Minnesota also will be without forward Jaden McDaniels, who fractured his right hand by punching a wall during Sunday's game.
Compared to the Timberwolves, the Lakers are in a serene environment and are facing a situation that didn't seem all that probable when they were 26-32 on Feb. 13
But Los Angeles went 17-7 down the stretch while mixing in new players. They were able to shed Russell Westbrook in a three-team trade in which they fleeced the Timberwolves by obtaining D'Angelo Russell, Malik Beasley and Jarred Vanderbilt
Now there is optimism that the Lakers can make some noise in the postseason
"We're just looking forward to the opportunity," Lakers coach Darvin Ham said after Sunday's 128-117 home win over the Jazz. "Starting where we started at earlier in the year, and now sitting where we find ourselves sitting, we're excited. Guys are ready to go. We've got great synergy in our locker room.
Minnesota went 2-1 against the Lakers in the regular season, including a 110-102 win in Los Angeles on March 3
--Field Level Media