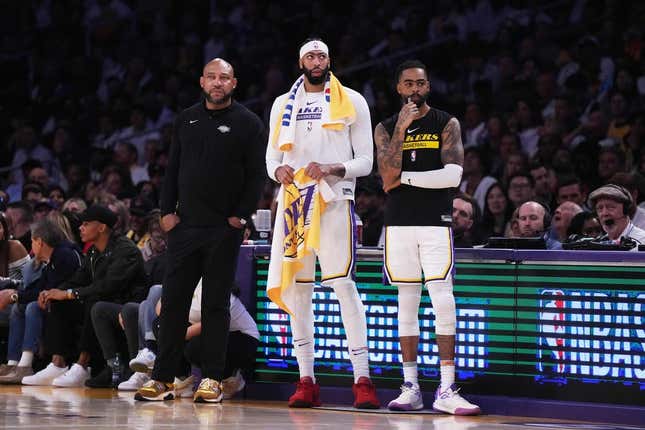 The Los Angeles Lakers have shown that they can rise to the occasion on select nights, with the overall issue being an inability to stay healthy enough to sustain their top form
Does Jimmy Butler have the best NBA Finals origin story? | Agree to Disagree
The Lakers have a chance to push through their inconsistencies Monday when they play host to the Memphis Grizzlies in Game 4 of their first-round Western Conference playoff series
Los Angeles took a 2-1 series lead on Saturday with a convincing 111-101 home victory over Memphis as Anthony Davis scored 31 points with 17 rebounds, while LeBron James once again provided the energy while scoring 25 points with nine rebounds and five assists.
James' spirited effort came after the Grizzlies' Dillon Brooks referred to the four-time MVP, who also has four NBA titles, as "old" and not worthy of respect "until they come and give me 40 (points).
James has been around a while at age 38 with 20 seasons to his credit, but remains a productive star. And while James didn't give his team 40, he did power the Lakers to a series lead
Brooks only compounded his poor decision-making by swinging his left hand into James' groin in Game 3, earning an ejection just as the second half started.
Brooks showed he might have learned a lesson by not speaking to the media after Game 3.
"This is not my first rodeo," James said. "I've had this throughout my career with certain individuals. It's easy. It's literally easy. We won tonight. I don't want to start this. There's a lot (to consider). We won. We had a hell of a game. I'm not going to do this."
James and Davis struggled to stay on the floor together all season, but they appear to be in good health now, giving their team the look of a dangerous No. 7 seed. Now the Lakers figure to get a Grizzlies team with more of an early sense of urgency in Game 4
For all the feel-good vibes the Lakers exhibited late Saturday night, they still have a long way to go before they can dispatch the No. 2-seeded Grizzlies. The Lakers won the opener at Memphis, then saw the Grizzlies rebound for a Game 2 victory while Ja Morant was out with a bruised right hand
Morant returned in Game 3 to score 45 points on 13-of-26 shooting from the field, with 24 of those points coming in the fourth quarter. But the game was well out of hand by then, as the Lakers led by as many as 22 early in the final period
Morant added 13 assists and Desmond Bane scored 18 points for Memphis, which shot 37.6 percent in the game and just 26.0 percent in the first half, when they trailed by as many as 29.
The Lakers led 35-9 after one quarter Saturday, but the Grizzlies see their 92-76 advantage over the final three quarters as a sign of good things to come
"I think we won by double digits in the last three quarters so obviously that first quarter pretty much hurt us," Morant said. "I felt like we got open looks and shots didn't fall. We allowed them to get in transition and they scored a lot of points, which we can't let happen. We have to play like we did the last three quarters. When they go on a run we go on a run of our own."
--Field Level Media